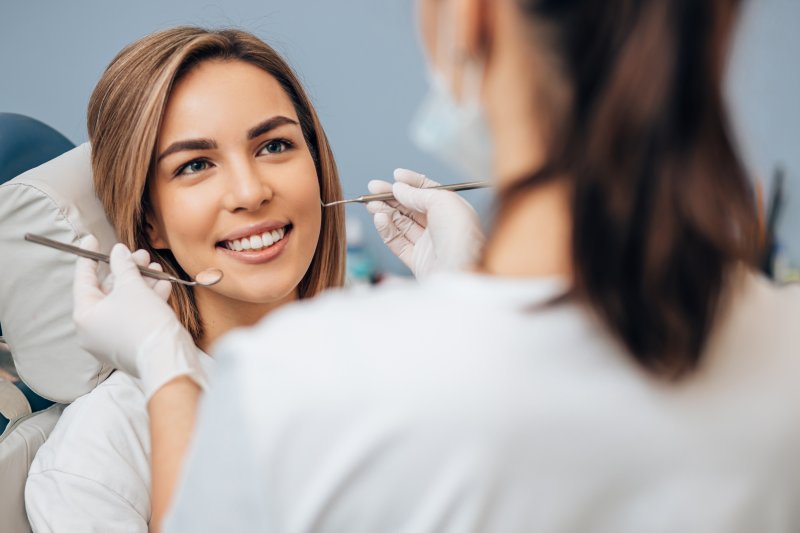 Have you been putting off your next dental cleaning because you're worried it might be painful? You're not alone. It's hard to willingly put yourself in a position where you might be subject to discomfort of any kind. Thinking about having to sit still in a chair while someone pokes and prods the inside of your mouth might send chills down your spine. Fortunately, your dentist is very experienced in treating patients with all levels of dental anxiety, and they value your comfort. If you want to know the truth about teeth cleanings and if they hurt, read on.
Does Getting a Teeth Cleaning Hurt?
In short, getting a teeth cleaning should not hurt, but many people do experience some level of discomfort during the process. The more frequently you get your teeth cleaned, the less there is to clean!
When you postpone your appointment, debris has more time to build up above and below your gumline. As a result, your gums may be more sensitive to touch. If the plaque and tartar sit below the gumline, they are harder to reach, meaning your cleaning may be more uncomfortable. Fortunately, regular cleanings can keep this from happening.
How Can I Avoid Discomfort at My Cleaning?
Even though your dentist's job is to clean your teeth and gums and remove plaque and tartar, another one of their top priorities is your comfort. If you're worried about tooth sensitivity or gum tenderness during your teeth cleaning, they are more than willing to work with you so that you can get through your appointments stress-free.
Here are a few ways you can help make sure your teeth cleaning is a comfortable experience:
Over-the-counter Pain Medication: Taking an over-the-counter painkiller before your cleaning can help reduce existing inflammation in your mouth and minimize uncomfortable sensations during treatment.
Desensitizing Toothpaste: Consider getting a toothpaste that helps desensitize your teeth and gums. Use it regularly to strengthen your enamel and minimize how sensitive your teeth feel.
Clear Communication: Talk to your dentist about what options you have for numbing gel, anesthetics, or sedation. You can also establish some sort of hand signal to let your dentist know you are experiencing pain or are in need of a break.
Don't grin and bear it – if you are feeling uncomfortable in any way during your dental cleaning, remember that your dentist is your friend. They want to ensure you have a good experience at your appointment and will meet you where you are.
About the Author
Dr. Nelson Y. Howard has over 37 years of experience in dentistry and utilizes his vast clinical knowledge to provide an extensive array of dental services. He uses advanced technology and techniques so that his patients can experience stress-free treatment. If you're due for a dental cleaning and want a dentist who prioritizes your comfort, reach out to Dr. Howard through his website or by phone at (760) 599-6559.