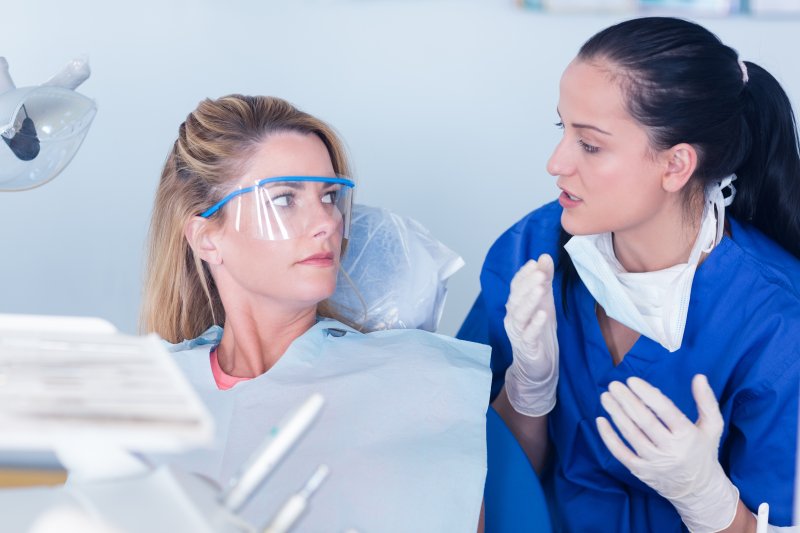 As you go through your morning dental hygiene routine, you suddenly notice an unfamiliar bump on your gums. Since you don't recall it being there before, curiosity sets in, and you start wondering about the possible cause. Fear not, as there are several factors that can contribute to the development of a bump on your gums. To shed light on this matter, let's delve into four potential causes and explore what your dentist can do to address the issue.
Cause #1: Progressed Tooth Infection
Experiencing redness, tenderness, warmth, swelling, or pain in your gums could be indicative of a tooth infection. The discomfort might intensify when lying down. Seeking prompt dental treatment is crucial to address the issue effectively. Ignoring the symptoms could lead to tooth loss or the necessity for a tooth extraction.
Don't delay in seeking professional dental care to safeguard your oral health and prevent further complications. Making a dental appointment at the earliest sign of the mentioned symptoms significantly improves the chances of saving the tooth and effectively treating the infection.
Taking tooth infections seriously is crucial since they can spread to other parts of the body and cause more severe health issues, including sepsis, a potentially life-threatening condition. Don't underestimate the importance of seeking timely dental care to safeguard both your oral health and overall well-being.
Cause #2: Oral Cyst
The development of a dental cyst on the gums can occur due to a dead or impacted tooth, and if left untreated, it has the potential to grow in size and exert pressure on the tooth roots, leading to potential oral health problems. While dental cysts may not be painful unless they become infected, it is crucial to have them examined by a dentist as soon as they are detected to prevent complications.
Cause #3: Oral Pyogenic Granuloma
If you notice a small, raised bump on your gums that is filled with blood, it may indicate a pyogenic granuloma. These granulomas are usually painless and have a soft texture. They also appear to be a deep purple or red.
Pyogenic granulomas are prone to bleeding, and in severe cases, they can cause anemia due to the loss of red blood cells. If you encounter such a bump on your gums, it's crucial to seek dental evaluation promptly to determine the appropriate course of action and prevent potential complications.
These bumps could arise due to localized trauma or irritation, and hormone fluctuations might also play a role in their development. In most instances, no intervention is necessary, and the granulomas may resolve naturally. Nevertheless, some situations might call for surgical removal.
Cause #4: Oral Abnormalities Due to Cancer
If you notice bumps on your gums, white or red patches of rough skin in your mouth, or slow-healing sores persisting for over two weeks, it could be a sign of oral cancer. To catch any potential issues early, your dentist will perform a thorough oral cancer screening during your regular bi-annual dental check-up. This proactive approach enables timely detection and treatment if needed.
About the Practice
In search of exceptional dental care in San Marcos, San Diego, or nearby areas? Your search ends with Dr. Nelson Howard and his dedicated team, who provide a wide range of outstanding dental treatments to address and prevent oral health issues. If you have a bump on your gums, their team will conduct a thorough examination to identify the cause and the most effective treatment plan. To schedule an appointment or for more information, contact their Bernardo office at (858) 451-0550, their San Marcos office at (760) 599-6559, or visit their website.