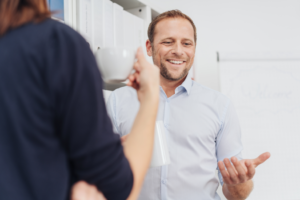 When it comes to making positive first impressions, there is no bigger asset at your disposal than your smile! Your pearly whites, while useful for eating and speaking, serve a very important role in your outward appearance and how people view and approach you. That said, your smile isn't the only ace up your sleeve for making yourself appear more amicable; here are a few other things that your trustworthy dentist wants you to consider!
#1: Consider Your Facial Expression
Your smile is certainly the first thing that people will notice when they first see you, but it's useful to consider the facial expression that you're wearing, too! When someone approaches you, don't simply stare at them, scowl, or make some sort of weird face—smile wide, show off your pearly whites, and say hello! People who appear sullen or are constantly frowning don't attract the same positive attention as those with attractive grins.
#2: Use Open Body Language
You should try to use an upright posture at all times; it's good for your back and gives off a good impression! But also consider other components of body language—having your arms crossed or your head tilted back might make you come off as intimidating or even a little stuck-up. But if you tilt your head too far down, you might seem insecure or aloof. Strive to stand tall and keep your gaze horizontal. It's also important to angle yourself toward those you're talking with; turning your side or back to them comes off as very dismissive!
#3: Make Appropriate Eye Contact
This is excellent advice in general; eye contact is one of the best ways to show respect and investment in a conversation or social interaction. When you greet people and shake their hands, don't hesitate to maintain an extra second or two of eye contact with them. This makes friendly situations more friendly and hostile situations less hostile. Just be sure to blink occasionally; a constant stare can be a bit unnerving! You might also consider relaxing your eyebrows if you tend to lower them.
#4: Say Something Positive… Or Don't Say Anything at All
Making a positive remark or comment can signal that you're open to interaction and hoping to have a pleasant exchange. This doesn't even have to be anything specific or sophisticated: a simple "The weather seems nice today" or "What a lovely view" can open up avenues of pleasantries without you having to invest much social effort. That said, be sure you're making respectful and polite comments—an off-putting, rude, or sour statement can send people walking!
Ultimately, there are many behaviors worth considering when it comes to seeming more approachable and having meaningful, positive social exchanges. But by considering the things above, you can certainly give yourself an advantage the next time you find yourself navigating the world!
About the Author
Dr. Nelson Y. Howard has proudly served the dental needs of the San Marcos area for several years. Dr. Howard received his DDS from the UCLA School of Dentistry and has taken countless hours of continuing education in a variety of fields, including preventive, cosmetic, and restorative dentistry. If you have any questions about the blog or if you need to schedule a visit for you or a family member, feel free to contact Dr. Howard through his practice's website or by phone for assistance. Telephone: (760) 599-6559.