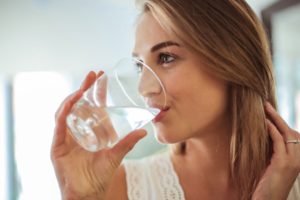 Your smile is one of your most important features; it's a source of your pride and joy and often the first thing that people notice about you! And when it comes to maintaining a beautiful and healthy smile, there's one secret that's often overlooked and severely underrated: proper hydration by drinking plenty of water. Here's more from your dentist about why water is considered the absolute best drink for your smile.
Water Prevents Dry Mouth
Your mouth naturally produces saliva, which is integral in the ongoing fight against tooth decay and gum disease. It's essentially your oral well-being's first line of defense, so when your saliva production is lowered thanks to dry mouth, needless to say, you're losing that protection.
One of the biggest threats to your smile is gum disease, and dry gums tend to collect bacteria that contribute to the condition. Dry gums also tend to swell and recede away from your teeth, but drinking lots of water will keep your gums hydrated, clean, and comfortable. Water also helps to wash away little bits of food debris that are left over after you've eaten, as a bonus.
It's Sugar- and Calorie-Free
There are all kinds of beverages out there that are high in both sugar and calories, which can put you at risk for cavities, tooth decay, gum disease, and more. Drinks like coffee, tea, and sodas can also stain your teeth, in addition to contributing to weight gain. Fortunately, water always contains zero grams of sugar, zero calories, and better yet, it can't stain your teeth. It can even counteract the effects of staining beverages if you swish some around your mouth following enjoying a dark-colored food or drink.
It's also worth noting that many sources of tap water have fluoride added to it, which is a naturally occurring mineral that directly benefits your oral health. And perhaps the best part about water is that it's widely accessible—so don't hesitate to pour yourself a glass and immediately begin enjoying all of these awesome oral health benefits!
About the Author
Dr. Nelson Y. Howard has proudly served the dental needs of patients and families in the San Marcos and San Diego areas for several years. Dr. Howard received his DDS from the UCLA School of Dentistry and is an Accredited Member of the American Academy of Cosmetic Dentistry. If you have any questions about the article or would like to schedule a visit for you or a loved one, feel free to contact Dr. Howard's practice online to find the closest location to you.