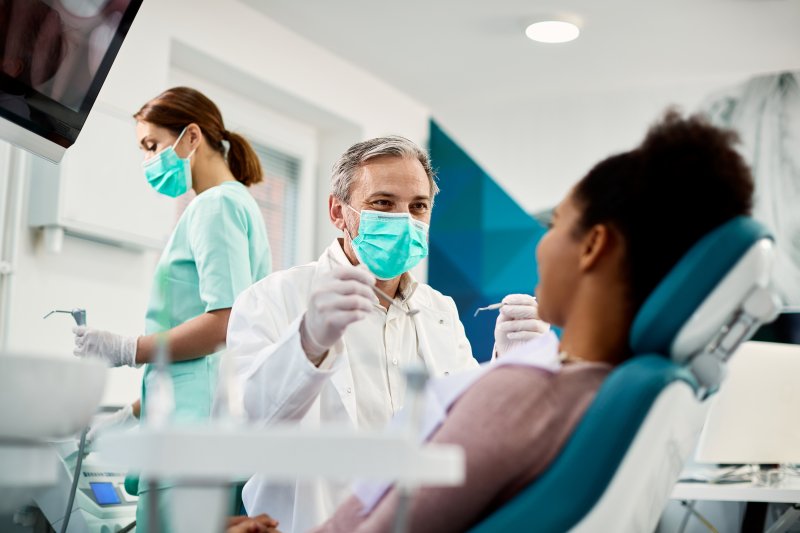 Dentists recommend that you visit for a checkup or cleaning twice a year. This allows them to detect any oral health problems before they become serious, and to clean in areas that you can't reach with brushing alone.
If you're going to your first dental checkup in a while, you might not know what to do or where to start. Here are some things to keep in mind at your next dental checkup.
Be Honest
This is the most important thing to remember: you should tell your dentist, honestly and completely, what's going on with your oral health. Your dentist will be able to tell if you don't floss, and they can help you much more effectively if they have an accurate understanding of what you do for your oral health day-to-day.
Don't Wear Lipstick
You can wear lipstick to your dental appointment, but you shouldn't be surprised if they ask you to take it off before the exam. The color of your teeth and gums is actually fairly important to understanding the state of your oral health, and lipstick can rub off on your teeth in ways that can be confounding for your dentist.
Be Mindful About Children
You can't always get a babysitter, and dentists are aware of that. However, bringing your child to your appointment can put a little bit of extra stress on the office staff. If it's possible to look after your child, you should definitely try to.
Cancel Mindfully
Most dentists have a set cancellation policy that they'll let you know beforehand. Life is busy and things come up, but you should endeavor to follow that cancellation policy as closely as possible.
One thing is for sure though: you shouldn't no-call-no-show. Your dentist set aside time for you, so you owe it to them to spend a little time telling them you can't make it.
Ask Questions
Finally, don't be afraid to ask questions. This checkup is for your benefit, and you're the one paying for it—you owe it to yourself to try and get as much out of it as you can. Feel free to ask any questions that you might have. Your dentist will be happy to answer them for you.
About the Author
Dr. Nelson Howard's favorite thing about being a dentist is being able to help his patients in a wide variety of ways. He's been practicing as a dentist for over 34 years, and whether you need a regular cleaning or to fix a broken tooth, he's happy to put that expertise to use for you. Dr. Howards graduated from the UCLA School of Dentistry, and he has since received the prestigious International College of Dentist Award.
If you have any questions about what to do at a dental checkup, he can be reached at his website or by phone at (760) 599-6559