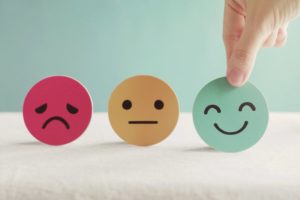 According to the Centers for Disease Control and Prevention (CDC), more than 50% of people will be diagnosed with a mental illness or disorder at some point in their lifetime. The most common conditions are depression and anxiety. While these struggles are often associated with your psychological and emotional well-being, they can also unfortunately affect your oral health. The good news is that being aware of how what issues you're at a higher risk of can help you take measures to prevent them. Read on to learn how your mental and dental health are connected and how speaking with your dentist can help.
How Depression Can Affect Your Oral Health
Depression causes a range of behavioral and physical symptoms. Some of the most common are changes in sleep, appetite, energy level, concentration, and daily behavior. These interruptions in your normal routine can begin to affect how you care for your teeth, such as:
Irregular Oral Hygiene Routine: Those with depression may be inconsistent with their dental hygiene, as well as not being as thorough in proper brushing and flossing. This can lead to a host of oral health conditions, including dental infections and gum inflammation.
Increased Intake of Sugar: Depression may cause people to snack on sugary foods for long periods of time. Consuming high amounts of sugar significantly increases your risk of cavities.
Missed Dental Checkups: The simplest tasks can become overwhelming with depression, so many will skip or postpone their dental appointments. Unfortunately, this allows possible oral health issues to go untreated and become significantly worse.
In addition to talking to your primary care doctor, be sure to let your dentist know if you suffer from depression. They can help protect your pearly whites and gum by using treatments like fluoride and deep cleanings to prevent oral health issues from developing.
Oral Health Conditions & Anxiety
Irritability, stomachaches, and restlessness are some of the most common symptoms associated with anxiety. However, studies have shown that it is also connected to oral health issues like:
Tooth Decay: Sugary comfort foods can fuel cavity-causing bacteria in your mouth all day long, increasing your chances of tooth decay.
Gum Disease: Anxiety produces cortisol, which weakens the body's immune system over time. This leaves your gums more susceptible to bacterial infections.
Weakened or Chipped Teeth: Nervousness can lead to chewing on hard objects like pen caps or your fingernails, which wears away at the enamel. Your teeth can then become weakened and can easily become chipped or cracked.
Bruxism (Teeth Grinding) & TMJ disorder: Chronic stress can cause you to grind your teeth while you sleep. This extra pressure can lead to cracked or sensitive teeth, as well as agitating the jaw joints, causing TMJ disorder.
By communicating with your general physician and your dentist about your mental health, you can ensure your overall well-being and your smile can be protected and cared for.
About the Author
Dr. Nelson Y. Howard is eager to help you keep your smile whole and healthy throughout every season of your life. With over 35 years of experience, he offers comprehensive dental care for any of your oral health needs. He provides a range of services, including preventive, restorative, cosmetic, and emergency dentistry. To schedule an appointment, contact him through his website or call (760) 599-6559.