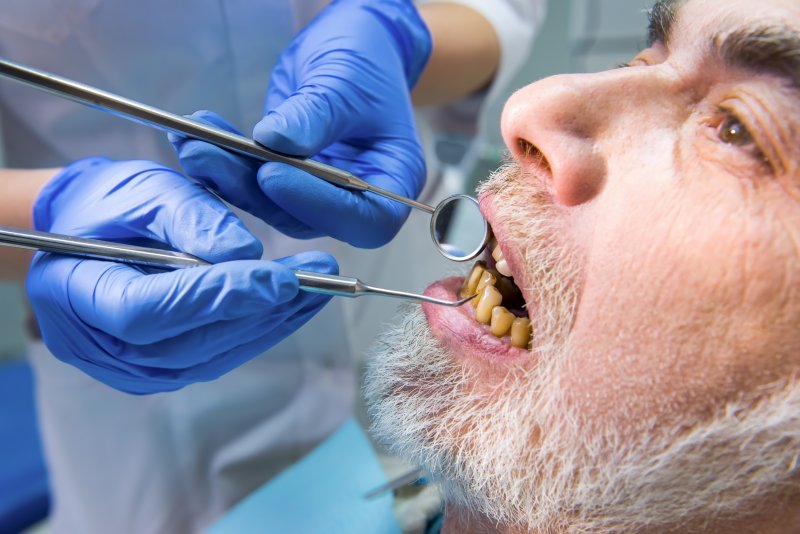 When it comes to oral health, most think it only focuses on your mouth. After all, unhealthy teeth and gums often lead to issues like tooth decay, cavities, gum disease, and worse. However, the truth is that poor dental care can affect more than just your oral cavity. In some cases, it can trigger health challenges in the rest of your body. To prove it, your local dental practice is here with evidence. Read on to learn how poor oral health in San Marcos can lead to the four body problems below.
Cardiovascular Disease
Perhaps surprisingly, a gum infection puts you at risk of cardiovascular disease.
You see, gum disease can have a negative influence on your heart. In particular, its bacteria may lead plaque to build up and harden in your arteries. This hardening process, called atherosclerosis, results in blood flow problems and heart blockages. Left untreated, it could cause heart attacks, strokes, and hypertension.
Thankfully, you can prevent gum disease and its effects with good oral hygiene and routine checkups.
Diabetes
Having diabetes is bad enough — it restricts your food choices, forces you to track your insulin levels, and results in physical issues. Apparently, though, poor oral health can also cause and worsen this illness.
As with heart disease, the problem lies with your gums. Namely, infected gum tissue causes elevated blood sugar levels in your body. As that occurs, you develop an increased risk of contracting diabetes.
Cancer
You may already know that bad dental health can cause oral cancer. Perhaps your dentist told you about how smoking tobacco triggers the condition. Even so, did you know a dirty mouth can lead to other cancers too? As it turns out, gum disease is also linked to kidney, pancreatic, and even blood cancers.
Kidney Disease
Not even your kidneys are safe from poor oral health. As for why that's the case, the problem stems once again from gum disease.
As you might've guessed, infections like gum disease can lead to kidney disease. When you have infected gums, your immune system gets weaker, and you're more likely to develop other infections. It's a difficult situation, too, since kidney disease can be fatal if it leads to kidney failure or heart disease.
Given the problems listed above, poor oral health in San Marcos isn't only about your mouth. As such, get the dental care you need to protect both your smile and the rest of your body.
About the Author
Dr. Nelson Howard is a professional dentist based in San Diego, CA, having earned his dental doctorate from the UCLA School of Dentistry. Thanks to his training and experience, he specializes in preventive, cosmetic, and restorative dental treatments, not to mention emergency procedures. As such, you can trust him for anything from a standard dental checkup to restorations like dentures or implants. Dr. Howard currently practices at his self-titled clinic and is reachable on his website or by phone at (858)-451-0550.