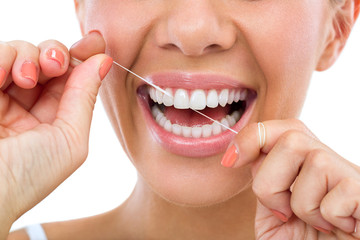 As you know, brushing your teeth once in the morning and once at night is key to preventing oral health issues and keeping your smile healthy. Flossing your teeth is also an important part of a good oral hygiene routine and should be done at least once per day, preferably before bed. Even so, some people skip this important step or have issues completing it. If you're one of those people, read on to learn if dental floss or a Waterpik is the better option.
Pros of Using a Waterpik
Waterpiks and other water flossers are often much gentler than traditional dental floss. They are also the better option for people with orthodontic appliances like braces as well as those with dental bridges and other restorations. Water flossers are also beneficial for those who have mobility issues that make it hard for them to use regular dental floss like arthritis.
Cons of Using a Waterpik
Though Waterpiks and other water flossers offer several benefits, they also have some downsides. Water flossers cost a lot more than regular dental floss. Additionally, the water they shoot can get a bit messy. Traditional dental floss is also better at removing plaque from the teeth than Waterpiks.
Pros of Using Dental Floss
Traditional dental floss can get into the tight spaces between teeth to effectively remove plaque and food particles. It's also much cheaper than buying a water flosser and can be purchased at many grocery stores, drug stores, and dollar stores. Dental floss comes in a variety of thicknesses, types, and flavors so that you can pick the best option to fit your needs.
Cons of Using Dental Floss
Though dental floss is a great option for many, it still has a few drawbacks. If you don't utilize the correct technique, dental floss won't get your teeth very clean. Additionally, people with certain health conditions may have trouble using it. Traditional floss also can't be used properly with braces and other oral appliances.
If you are able to use traditional floss without any issues, it's probably your best option. But, if you have mobility issues that make it difficult to hold the floss and move it the proper way, you may want to consider getting a Waterpik or other water flosser. Be sure to ask your dentist which one is the best option for your situation and oral health needs.
About the Practice
Are you a resident of Rancho Bernardo, San Marcos, or one of the surrounding communities? Are you in need of a talented dental team to help you care for your smile? Dr. Nelson Howard and his team are here to do just that. They offer a range of preventive, restorative, and cosmetic dental treatments for the whole family so you and your loved ones can maintain beautiful beams. If you're interested in scheduling an appointment with Dr. Nelson Howard or want more information, call his San Marcos office at (760) 599-6559, his Rancho Bernardo office at (858) 451-0550, or visit his website.