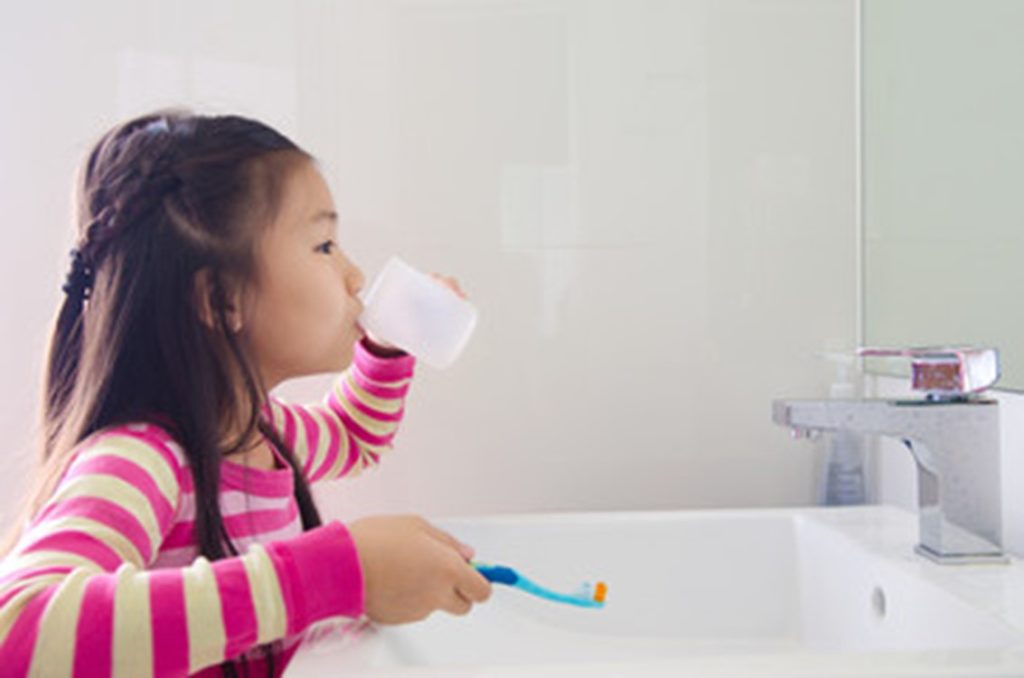 Brushing your teeth twice a day is an important part of preventing oral health issues and maintaining a beautiful, functional smile. But after you've finished brushing your pearly whites, what are you supposed to do with all that pesky, excess toothpaste that's still lingering around your mouth? Many people rinse out their mouth once they're done brushing—but is this actually what you're supposed to do? Keep reading to learn more about the positives and negatives of this habit.
How Fluoride Affects Your Teeth
The first thing to consider is the presence and importance of fluoride; this naturally occurring mineral helps to prevent tooth decay and is found in some of the foods that you eat and is also often added to drinking water and oral health products. Fluoride helps your teeth most when it's in direct contact with them for several minutes, and this is the best way to ensure that it strengthens them—it re-mineralizes your enamel and creates a smile that is more resistant to daily wear-and-tear.
Should I Rinse After Brushing My Teeth?
Since allowing fluoride to sit on your teeth helps to reduce the risk of tooth decay, you don't always want to rinse out your mouth immediately after brushing—you'd be washing away the ingredient that is meant to help your teeth! Even if you're using a mouthwash that contains fluoride, you can still remove some of the more heavily concentrated fluoride from your toothpaste. The U.K.'s Oral Health Foundation recommends spitting out excess saliva and toothpaste after brushing, rather than rinsing, and avoid eating or drinking for at least 10 minutes after.
However, even though rinsing after brushing isn't ideal for the sake of the fluoride, there are still some benefits to it. It helps to wash away bacteria and other debris that you might've missed while brushing, and it also emulates your mouth's natural flow of saliva. It also reduces the risk of you swallowing excess fluoride.
The Risks of Not Rinsing After You Brush
Even though it's generally considered safe to forgo rinsing your mouth after brushing, there are a few side effects associated with ingesting fluoride, such as:
Abdominal pain and discomfort
Nausea and diarrhea
Oral health issues like TMJ disorders or fluorosis.
It's important to note that most products contain fluoride levels meant for adults, so a larger risk exists when children ingest fluoride. These side effects are also extremely rare when only a pea-sized amount of fluoride toothpaste is used.
Ultimately, the choice to rinse after brushing your teeth is yours—although there are benefits to it, the efficiency of the fluoride present is at stake. Although, knowing how fluoride can impact you and your mouth may make it worth considering holding off on rinsing directing after brushing.
About the Author
If you're looking for quality dental care in the San Marcos area, Dr. Nelson Y. Howard has over 30 years of experience and would be happy to give your smile the care it deserves. Dr. Howard completed his dental doctorate at the UCLA School of Dentistry, and he is also one of only 466 dentists worldwide to have earned Accreditation from the American Academy of Cosmetic Dentistry! If you have any questions about the article or would like to schedule an appointment with Dr. Howard, feel free to reach out through his website or by phone: (760) 599-6559.