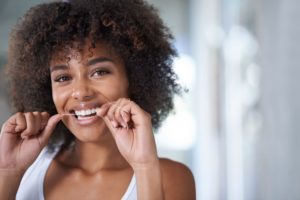 It's a brand-new year, and you know what that means – now is the perfect time to make positive changes in your life. Why not make 2022 the year you choose to improve your dental health? It'll be a win-win for both your health and your wallet. After all, you can avoid dental problems that are expensive to treat. To get a healthy smile in 2022, just stick to these four dentist-approved New Year's resolutions!
1. Visit Your Dentist Twice This Year
Tooth decay and infections often go undetected at first. By the time they start causing you discomfort, they often need invasive and pricey procedures. One way to prevent this is to see your dentist for a checkup and cleaning every six months. They can spot oral health issues long before you would have noticed them, and can treat them in conservative and inexpensive ways. This saves you quite a bit of pain, time, and money!
2. Clean Between Your Teeth
Most people are aware that they should floss, but actually getting around to it is a different story. Once you make flossing a daily habit, though, you'll wonder why you didn't do it sooner. It'll make your breath smell fresher and your mouth feel cleaner. Plus, it's the only way to get rid of plaque between your teeth, reducing your risk of gum disease.
3. Cut Back on Sugar
Eating healthier is already a common New Year's resolution because of its overall health benefits, and you can probably guess that it's also good for your oral health. The bacteria in your mouth love to feed on sugar particles that linger on your teeth, making it easier for them to contribute to cavities. If you eat less sugar, it's harder for them to wreak havoc. Instead, snack on more nutritious foods like fresh fruits, veggies, and nuts.
4. Quit Dangerous Chewing Habits
If you're like many people, you might be damaging your teeth every single day without even realizing it. Chewing on inedible, hard objects like pencils, pens, ice cubes, and your fingernails can weaken your tooth enamel over time. So can using your teeth to hold bags or open bottles or packaging. These habits could eventually lead to a broken or chipped tooth. To avoid the temptation to use your teeth for anything other than eating food, try to keep a bottle opener, box cutter, or other appropriate tools at the ready. Whenever you feel the urge to chew on something you shouldn't, put a piece of sugar-free gum in your mouth instead.
Whether you start them for health reasons or for financial reasons, these New Year's resolutions will only have positive outcomes. If you stick to them for all of 2022, your smile will thank you!
About the Author
As an Accredited Member of the American Academy of Cosmetic Dentistry, Dr. Nelson Y. Howard is a true expert when it comes to creating beautiful smiles. Of course, his top priority is still making sure his patients' smiles are healthy first! With his 35+ years of experience as a dentist in San Marcos, CA, you can trust that with Dr. Howard, your smile is in great hands. To learn more about improving your dental health in 2022, you can contact his practice at 760-599-6559.