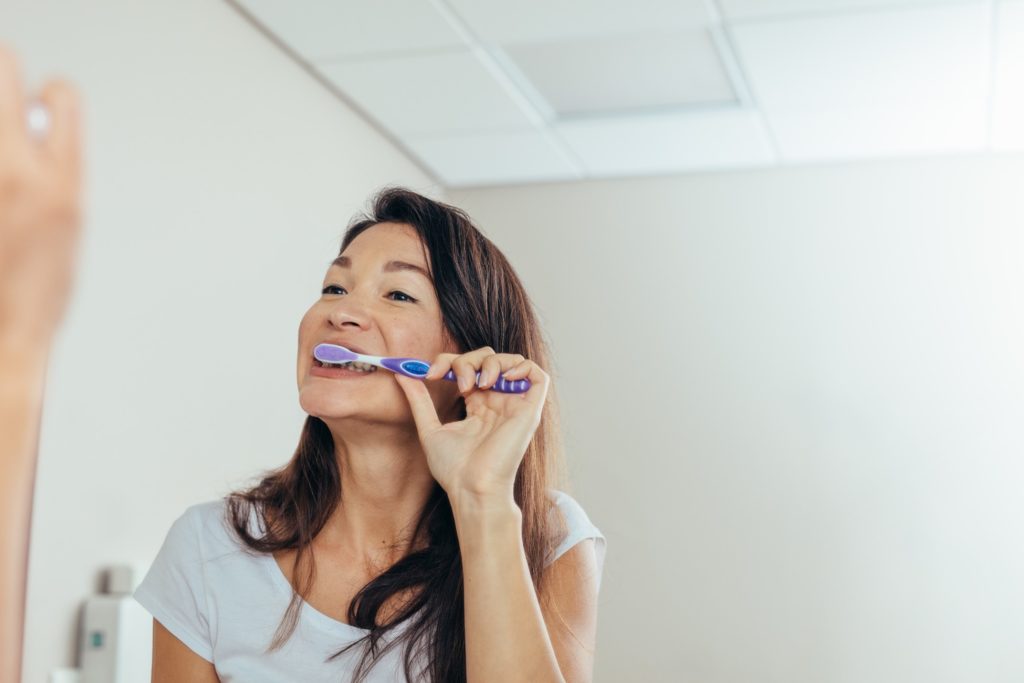 Be honest… Do you go on autopilot when you brush? If so, you may be unintentionally carrying out bad dental habits, like brushing your teeth too hard. This is common since many patients are under the impression that removing food particles, plaque, and bacteria requires applying an immense amount of pressure. However, that's simply not the case. Keep reading to learn five signs you're brushing your teeth too hard, the detrimental consequences, and tips for brushing properly.
5 Signs You Are Brushing Your Teeth Too Hard
Although it can be tempting to just go through the emotions during your morning and evening oral hygiene routine, it's important to be intentional and keep an eye out for the below signs:
Receding gums
Bleeding when you brush or floss
Tooth sensitivity
Dental discoloration
Oral pain/discomfort
How Brushing Too Hard Can Damage Your Smile
At first, brushing too hard may not seem like a big deal. However, if this becomes a habit, you can experience a number of dental problems. To start, vigorous brushing can wear away your enamel, leaving you more vulnerable to cavities. Additionally, it can lead to receding gums and even gum disease, which may require periodontal therapy if left unchecked. So, brushing too hard can negatively affect multiple aspects of your oral health.
How to Brush Your Teeth Properly
The good news is that there is no time like the present to turn over a new leaf. The best place to start is with the right tools, like a soft-bristled toothbrush. Next, place the head of your toothbrush at a 45-degree-angle and move the bristles in a scrubbing motion. Apply just enough pressure for two full minutes (remember, the bristles should not be squashed against your gums).
6 Additional Tips for Healthy Teeth and Gums
Pristine oral health requires proper brushing, but there are a few other best practices you should be implementing as well:
Flossing and rinsing with mouthwash daily.
Limiting your sugar consumption.
Quitting unhealthy dental habits.
Visiting your dentist biannually for a dental checkup and cleaning.
Eating a vitamin-rich diet.
Drinking plenty of water.
Keeping your smile in tip-top shape throughout the years takes work, and that starts with proper brushing techniques. Luckily, the above tips can help you along your way, but don't hesitate to ask for more during your next checkup and cleaning!
About the Author
For more than three decades now, Dr. Nelson Howard has dedicated his days to helping patients improve their oral health. Whether that's sharing at-home oral healthcare tips or providing meticulous checkups – he's happiest when he's helping others! His dedication to his craft has led him to be awarded the International College of Dentists Award, too. So, if you have a question pertaining to the health of your smile, are struggling with bleeding gums, or need to schedule your six-month checkup, don't hesitate to visit his website or call 760-599-6559.