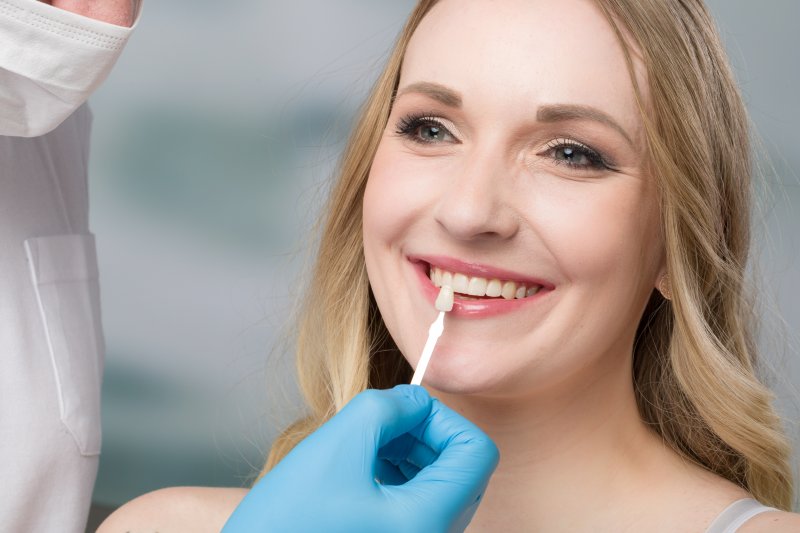 If you don't have a smile you're proud to show off, there's no need to settle. Thanks to advancements in dental technology, you can correct flaws in your pearly whites like gaps and chips with porcelain veneers. Though they're a great option for fixing cosmetic issues with your smile, veneers don't last forever. Here are a few signs that it's time for you to ask your dentist about getting a veneer replacement in San Marcos.
Sign #1: Your Veneers Are Darkening
A special dental cement is used to attach the veneers to the front surface of your teeth. Over time, this cement will naturally begin to darken, and you may eventually be able to see it through your veneers. Since there isn't an effective way to lighten the cement, your best bet is to have both the veneers and the cement replaced.
Sign #2: Your Veneers Are Damaged
Veneers are made from durable porcelain, but that doesn't mean they're indestructible. If they look worn down or have any cracks or chips, you should have your dentist look at them so they can determine how severe the damage is. If it's bad enough, they may recommend getting a veneer replacement.
Sign #3: Your Veneers Are Rough Around the Edges
Your veneers can wear down over time from eating, chewing, or grinding your teeth. If they appear to be losing their shape or looking a little rough around the edges, speak with your dentist about having them replaced.
Sign #4: The Supporting Tooth or Teeth Are Compromised
In order for your veneers to look the way they're intended to, you need to keep the supporting teeth healthy by maintaining good oral hygiene. If you experience tooth decay, the veneers can begin to separate from the tooth and may eventually fall off. If the tooth under the veneer isn't healthy, you will need to have the issue treated before a new veneer can be placed.
Sign #5: Stains Aren't Lifting from Your Veneers
Though porcelain veneers are highly stain-resistant, they can still become discolored with age. Eating acidic foods or drinking coffee, dark sodas, red wine, or tea can further contribute to this discoloration. Since veneers can't be whitened in the same way as natural teeth, the only way to lift stains from them is to have your dentist do a deep clean or replace them completely.
Though veneers aren't permanent, proper care can make them last upwards of 15 years. If they are starting to show any of the above signs of age, contact your cosmetic dentist in San Marcos to have them replaced so your smile can continue being bright and beautiful.
About the Author
In as few as two visits, Dr. Nelson Howard and his talented, trustworthy, and compassionate team can transform your smile with porcelain veneers. From chips and cracks to minor alignment issues, porcelain veneers can give you the brighter, whiter, and more beautiful teeth you've always dreamed of having. Ready to schedule a consultation to learn if porcelain veneers are the right choice for you and your smile? Call their San Marcos office at (760) 599-6559, their Rancho Bernardo office at (858) 451-0550, or visit their website for more information.