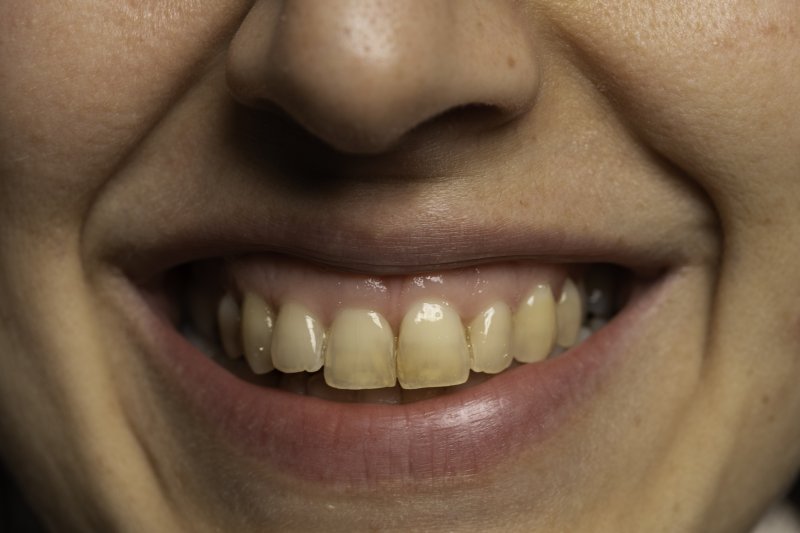 While looking through old photos of you and your loved ones, you noticed how much the color of your smile has changed over time. Though tooth staining is a normal part of getting older, there are also many external factors that can contribute to it. Cosmetic dentistry procedures can be useful in helping you achieve the smile you want, but what stained your teeth in the first place? Here are the three main types of tooth stains and how to get rid of them.
Extrinsic Discoloration
An tooth stain is on the outermost layer of the tooth. With this kind of discoloration, the stains are likely only affecting the enamel of the tooth. The most common causes of extrinsic discoloration include red wine, tea, soda, coffee, chocolate, cigarettes and other tobacco products, red sauces, and other highly pigmented foods. These stains respond well to regular cleaning and brushing with whitening toothpaste. They're also easily cleared up with professional teeth whitening treatments.
Intrinsic Discoloration
These stains are internal and can make the teeth look a grayish color. They may be caused by injury or trauma, certain medications, tooth decay, or genetic factors. Overuse of fluoride, especially in children, is another common cause of this kind of discoloration. The treatment of intrinsic tooth stains may require an in-office whitening treatment or professional at-home tooth bleaching products. In some cases, teeth whitening may not be effective, in which case your cosmetic dentist may recommend alternatives like dental bonding or veneers to help you achieve the results you deserve.
Age-Related Discoloration
As we get older, our tooth enamel starts to wear away. Dentin, the core tissue teeth, naturally yellows over time and can show through the thinning enamel as it becomes more opaque. This makes teeth look yellow and discolored. A mixture of intrinsic and extrinsic factors such as the impacts of certain foods, drinks, and tobacco use contribute to this. The best way to treat this type of stain will depend on a variety of factors, so it's important to visit your cosmetic dentist for an evaluation.
How to Brighten Your Smile
Fortunately, there are a variety of products and procedures that can whiten teeth and give you a more youthful smile. Some of the most common ones include:
Over-the-counter products – Whitening strips and toothpastes may diminish surface stains, but they're much less effective on intrinsic ones. Make sure to use whitening toothpaste in moderation since the abrasives in it can scratch away tooth enamel.
At-home treatments – These can be obtained through your dentist and may include custom whitening trays. You put a gel into the trays and wear them for up to an hour each day or as instructed by your dentist. You'll usually get the results you're looking for in two weeks.
In-office treatment – The products used for in-office tooth whitening usually contain a higher concentration of hydrogen peroxide than at-home products. They work quickly, and effects typically last longer than those of other methods.
Regardless of the types of tooth stains you have, there are lots of safe ways to whiten them in-office and at home. Ask your dentist for recommendations to keep your teeth healthy and looking great.
About the Author
Dr. Nelson Howard and team are bringing California patients high level dental care they can feel confident in. As one of only 466 dentists in the world who are accredited members of the American Academy of Cosmetic Dentistry, Dr. Howard has what it takes to help you achieve the smile of your dreams. He offers a variety of cosmetic treatment options including teeth whitening to help you remove different types of tooth stains and revitalize your pearly whites. Call his San Marcos office at (760) 599-6559, his Rancho Bernardo office at (858) 451-0550, or visit his website to learn more.