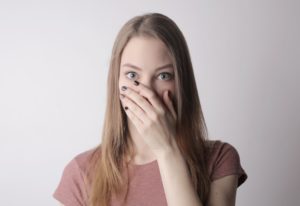 Are you tired of hiding your "gummy smile?" You don't need to feel insecure about small teeth any longer. Your cosmetic dentist can give you a big, bright smile using the latest elective procedures. You have more options than ever to alter your gum line and the proportion of your teeth. Although every case differs, here are 3 solutions to achieve the picture-perfect smile you deserve.
1. Veneers
A veneer is a thin shell that's bonded to the front surface of a tooth. It instantly hides several imperfections using just one treatment, like tooth discoloration, chips, and smaller than average teeth. Bonding veneers to the front 4 to 8 teeth enhances their color, size, and shape using a minimally invasive procedure. In some cases, patients with excess gum tissue will need a crown lengthening treatment to reveal more of the teeth' surfaces to create a larger bonding area. After as few as 2 appointments, you can enjoy natural-looking results that can last for a decade or longer with the proper care.
2. Dental Bonding
Also known as cosmetic or direct bonding, the procedure can correct minor aesthetic issues. A composite resin is customized to match the color of your enamel before it's applied to a tooth to fix chips, cracks, or discoloration. It can also make your teeth appear larger or close gaps between them. Rest assured, the resin will be carefully shaded to blend in with your enamel, so no one will notice it is there. It's an affordable alternative to veneers to transform your smile.
3. Crown Lengthening
Your cosmetic dentist can remove extra gum tissue with the pinpoint accuracy of a soft tissue laser. The highly concentrated beam of light energy eliminates the need for scalpels and sutures for a less invasive treatment. Your dentist will sculpt the gum line to make your teeth look larger and proportionate. You'll have minimal discomfort as the laser also sterilizes the tissue to reduce the risk of infection. As a result, it can also treat gum disease. With laser dentistry, you'll benefit from less pain, swelling, and bleeding for a quicker recovery when compared to using the traditional method. Crown lengthening can be combined with other treatments, like porcelain veneers, to achieve the exact results you want.
Say Goodbye to Your Gummy Smile
A gummy smile is more than just an aesthetic issue. Excess tissue can increase your risk of cavities and gum disease. Removing it will give your confidence a boost while also improving your oral health. Your cosmetic dentist can help you invest in healthy, beautiful teeth using a personalized treatment plan to create your dream smile.
About Dr. Nelson Howard
Dr. Howard earned his dental degree over 34 years ago at the UCLA School of Dentistry. He is one of only 466+ dentists worldwide to become an Accredited Member of the American Academy of Cosmetic Dentistry. If you're ready to enhance your smile, choose an award-winning cosmetic dentist. Contact our office today to schedule your consultation.