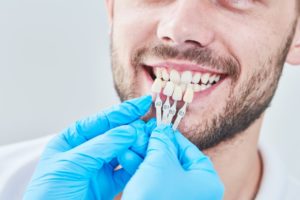 Have you been finding it hard to smile lately because of stains, chips, or gaps in your smile? If so, then your cosmetic dentist might be able to upgrade your smile with a set of porcelain veneers. As one of the most versatile cosmetic dental treatments available, veneers can instantly cover up your smile's flaws, all while looking perfectly natural. But how do they look so seamless? Read on to learn about the dental technology that goes into making veneers look as flawless as they do.
What Exactly Are Veneers?
A veneer is a thin sheath made of dental porcelain that is bonded to the front surface of a tooth, instantly masking all of its imperfections. Not only is porcelain incredibly durable, but it is able to mimic tooth enamel in almost every way. Once your veneers are in place, your smile will look effortlessly beautiful. But how exactly is this possible?
The Dental Technology Involved in the Veneers Process
Veneers are able to provide such amazing results thanks to a combination of the dentist's artistic touch, the proficiency of dental lab technicians, and recent technological advancements in the field of cosmetic dentistry.
One of the key elements that are involved is digital X-rays. To ensure that veneers blend in with the surrounding teeth, your dentist must capture highly detailed images of the current appearance of your teeth. Based on these photos, the dental lab technicians can then create veneers that match the color, size, shape, position, and length of your teeth.
While the veneers are being crafted, your dentist will place temporary veneers over your teeth to give you an idea of how your results will look and feel. If you're dissatisfied with any aspect of these temporaries, you can let your dentist know. From there, they can adjust your permanent veneers accordingly.
Take the First Step Toward Your Dream Smile!
The process of getting veneers normally takes two to three appointments over the course of a month or so. However, the only way to get the ball rolling is to contact your cosmetic dentist and set up a consultation. Before moving forward with the procedure, you can learn a bit more about the treatment and ask any questions you may have. By taking this first step, you'll enjoy the benefits of the latest dental technology and achieve the attractive smile you've been dreaming of!
About the Author
Dr. Nelson Y. Howard is one of fewer than 500 dentists worldwide to become an Accredited Member of the American Academy of Cosmetic Dentistry. This achievement means that Dr. Howard has demonstrated his devotion to clinical excellence as well as the blend of art and science that constitute cosmetic dentistry. At his San Marcos, CA dental office, he offers veneers made with the latest dental technology to guarantee flawless results. To get started on revamping your smile, you can visit his website or call his office at (760)-599-6559.