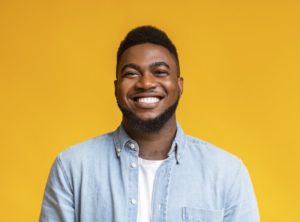 Almost nobody is born with a perfect set of teeth. Even the award-winning smiles you see in music videos, movies, and TV have likely been improved with cosmetic dentistry. While cosmetic dental treatments are certainly popular choices for movie stars and other celebrities, you don't have to be rich and famous to attain a smile fit for the silver screen. Thanks to modern dental techniques and technology, it's never been easier for your dentist to transform your pearly whites. Keep reading to learn some of the cosmetic dentistry services that can give you the confident, attractive smile you deserve!
Teeth Whitening
Professional teeth whitening treatments are one of the quickest, cheapest, and easiest ways to dramatically enhance your smile. Unlike over-the-counter whitening products from the drugstore, whitening kits from a cosmetic dentist are designed to provide gorgeous results that last. To design custom whitening trays, your dentist will take impressions of your teeth. All you have to do is wear the trays with a potent bleaching gel for about half an hour a day, and your smile should be several shades brighter after just a couple of weeks!
Dental Bonding
Sometimes, teeth stains might be too stubborn to respond to even professional whitening treatment. In that case, dental bonding may be able to help. By applying a putty-like composite resin (the same material used in tooth-colored fillings) to your tooth, your dentist can conceal stains as well as chips, cracks, and even small gaps. Best of all, dental bonding is one of the most affordable cosmetic dental services available!
Veneers
Arguably the most popular cosmetic treatment in Hollywood, veneers have a slightly higher price tag than other services. However, they deliver truly incomparable results! Once these thin, personalized porcelain shells are placed over the front surfaces of your teeth, virtually all of their flaws disappear. Whether your smile is plagued by discoloration, chips, gaps, or misshapen teeth, veneers are versatile enough to transform almost every aspect of your teeth.
Gum Recontouring
Believe it or not, your gums actually play a huge role in the way your smile looks. If you've been told you have a "gummy smile," then you might have too much gum tissue covering up your teeth. Gum recontouring provides a simple fix. Your dentist can utilize a precise laser to painlessly remove the excess tissue and balance out your smile.
Contrary to what you may have heard, cosmetic dentistry is more accessible and affordable than ever before. Schedule an appointment with your cosmetic dentist today to find out which treatment is right for you!
About the Author
As a cosmetic dentist with 34+ years of experience, Dr. Nelson Y. Howard has transformed countless smiles in his career. At his San Marcos, CA dental office, he provides all of the services described above and more, as well as financing options to make them more affordable. If you're interested in getting a red-carpet-ready smile, you can contact Dr. Howard's office at (760)-599-6559.