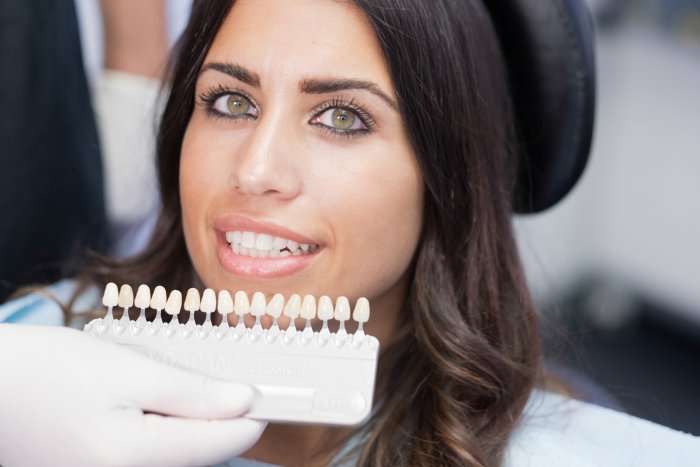 If you've been thinking about getting veneers for a long time, you should keep in mind that part of that process is wearing a set of what are called "temporary veneers" prior to the placement of the permanent veneers. Temporary veneers are just that, temporary, but that doesn't mean you shouldn't take care of them over the two-week-long period that's needed before permanent versions can be placed. According to a dentist, the following reasons are why temporary veneers are so important ahead of your second appointment.
They Protect Your Prepared Teeth
In order for veneers to sit flat against teeth, natural enamel must be prepared. This process involves removing a very small amount of enamel, which is done in the most conservative way possible to maintain the long-term health of your teeth.
Since your teeth are modified to accommodate veneers, they will need to be protected as you eat, drink, and practice oral care. Temporary veneers ensure your natural teeth are well-protected as the permanent ones are being made in a separate dental lab.
They Give You a Glimpse of Your Future Smile
Considering the many changes you're making to your teeth, dentists want to make sure you are happy with your investment. During the two-week period that you'll be wearing temporary veneers, you'll be able to get used to your smile's (and your overall new facial) appearance. You'll also get a chance to review the things you like about your new smile and take note of the attributes you'd like to change. Keep in mind that making adjustments to your final veneers is far more affordable before they are already bonded.
How Do I Prevent Veneers from Falling Off?
In the event a veneer does come off, you should never just ignore it and wait until your next appointment. You should call your dentist and try to be seen as soon as possible.
The best way to prevent veneers from coming off prematurely is to avoid specific foods and situations that are likely to break the seal between your tooth and the veneer. For example, most dentists recommend:
Avoiding sports where there's a risk for high impact.
Avoiding sticky foods, such as taffy, caramel, and chewing gum.
Avoiding hard foods, such as nuts, ice, popcorn, and chips, all of which can put a lot of pressure on your veneers.
Take a break from tough or chewy meats. Eating steak or pork chops can easily cause a veneer to loosen.
Are you still thinking about getting veneers but haven't made the first step of call the dentist? Once you do, you'll be one step closer to achieving the smile of your dreams! Get in touch with a dentist today and they'll be happy to walk you through the step-by-step process.
About the Author
Dr. Nelson Howard not only has decades of experience in the dental field, but he's one of only a few hundred dentists around the world that is an Accredited Member of the American Academy of Cosmetic Dentistry. This award is only given to those who have proven their commitment to and clinical excellence in the art and science inherent of cosmetic dentistry. To schedule an appointment with his office, you can contact him through his website.