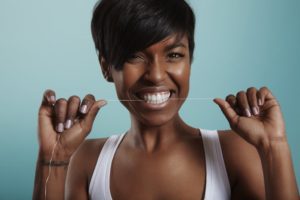 It may seem like your teeth will just take care of themselves. After all, they appeared in childhood – on their own – without you having to do anything. Although they miraculously emerge from the gums in the toddler stage of life, they still require proper care to remain healthy and strong. As you continue reading, a dentist lists 5 reasons why it's important to take your oral health seriously.
#1 – For Word Pronunciation
Your teeth are integral in the pronunciation of words and letters. They are especially important for forming the consonant sounds t/d/n/l, which are rightfully referred to as 'dentals.' That's because to pronounce them correctly, the tongue must press against the teeth.
#2 – To Maintain Jawbone Structure
The action of chewing does more than just allow you to digest food. The pressure generated helps to stimulate the jawbone to continue creating new bone cells. Inactivity can lead to reabsorption of the bone material, which can cause shrinkages and a loss in bone density. This further results in changes in the facial structure and a more aged appearance.
#3 – For Saliva Production and Control
By allowing for chewing, teeth help to stimulate saliva production. They also aid in preventing unwanted drooling by creating a natural barrier inside the mouth. While the lips can help out, it will take a lot more conscious effort without the presence of your teeth.
#4 – To Encourage Smiling
While you can smile without teeth, there is a natural apprehension when they are missing. Living without a full set can cause severe self-consciousness and less confidence, which has been found to contribute to increased inflammation in the body.
#5 – To Prevent Complex Health Issues
People missing their teeth are susceptible to multiple health problems. For starters, attempting to chew without teeth can contribute to gum disease and TMJ disorder, which is the painful inflammation of the joints that open and close the jaw. There can also be nutrient deficiencies from the inability to fully chew and break down food.
Dental Care is Vital
If you're fortunate to still have your teeth, it's of the utmost importance to take proper care of them. This should involve brushing and flossing at least two times a day and visiting a dentist semi-annually for cleanings and checkups.
There is also help available if you're missing teeth. The most effective means of replacing them is with dental implants, as they are the best at mimicking natural tooth function.
No matter what your situation is, you have much to benefit by taking action and visiting a local dentist. The steps you take today are the building blocks for a better quality of life tomorrow!
About the Author
For over 30 years, Dr. Nelson Y. Howard has been offering competent and compassionate care. A graduate of the UCLA School of Dentistry, he has eagerly worked to expand his knowledge and skillset by taking several hours of continuing education. Dr. Howard provides preventive care to maintain healthy smiles and dental implants to replace missing teeth at his private practice, and he can be reached for more information or to schedule a visit through his website.