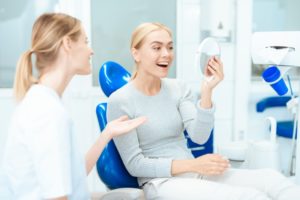 How much is a beautiful new smile worth to you? Are you willing to endure some pain to achieve it? If you're considering having some cosmetic dental work done, these are questions that may be surfacing. Thankfully, you don't have to guess. A local cosmetic dentist has some expert input. Continue reading to discover why you don't have to worry about any discomfort!
Is Cosmetic Dentistry Painful?
The appearance of your smile is important to you, but you don't want to endure some form of Medieval torture to accomplish your goals. Here's some great news for you: it's not necessary. With the advancements in techniques, technology and sedation dentistry, there's no need to fear undergoing any cosmetic procedure you're interested in. However, there are some variances with each method, so they're worth taking a look at.
How the Different Procedures Stack Up
Here are some brief explorations into some of the more familiar cosmetic options:
Porcelain Veneers
The application of porcelain veneers starts with a small amount of enamel being removed. Because the enamel doesn't contain any nerves, this is typically a painless process. To prevent any sensitivity after the removal, the dentist will place temporary veneers to protect the exposed dentin.
Metal-Free Dental Restorations
In some cases, metal free restorations may involve slight discomfort. This is especially the case if there is any tooth decay present. In such situations, the dentist will likely apply a topical numbing crème to ensure a painless experience.
After the completion of the procedure, there may be some sensitivity to hot and cold foods and beverages. Using toothpaste designed for sensitive teeth is one way to help out.
Dental Bonding
Typically, dental bonding isn't a painful process. Ultimately, it depends on the location of the damage to the tooth. Usually, the dentist is only working on the surface of the tooth. However, if there is any decay present, or the work is being done close to the gum line, there may be some sensitivity. Again, the solution is the application of a numbing medication.
At-Home Teeth Whitening
One of the more important features of professional at-home teeth whitening, is that the application trays are custom designed to fit your mouth perfectly. Two major benefits of this customization is that the whitening gel is evenly distributed, and it prevents the high-powered bleaching agents from escaping to cause discomfort.
Gum Contouring/Crown Lengthening
When performing a gum contouring or crown lengthening procedure, the dentist will likely use anesthesia to ensure a painless experience. After the work is done and the numbing medication wears off, the good news is there is usually little to no discomfort.
The Steps Taken to Ensure Your Comfort
Thankfully, the days of enduring painful dental procedures are in the past. And better yet, you don't have to be subjected to an anxiety-filled experience. By letting your dentist know how you're feeling, you can receive sedation dentistry to leave you calm and relaxed.
After your procedure is completed, you may experience some slight discomfort. Typically, this can be rectified by taking an over-the-counter pain reliever like ibuprofen (Advil/Motrin).
So there you have it – you have nothing to fear about receiving the cosmetic dental care you've been desiring. A revamped version of your smile is now well within reach!
About the Author
For over 30 years, Dr. Nelson Y. Howard has been crafting gorgeous smiles. The UCLA College of Dentistry graduate and member of the American Society for Dental Aesthetics uses every tool at his disposal, from his educational and clinical background – to his affiliation with professional organizations, to deliver fantastic results. To schedule a consultation with Dr. Howard, visit his website.