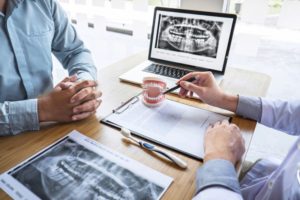 You did it! You've finally decided to invest in yourself and consult a cosmetic dentist to improve your smile. The only concern is that your current oral health is not exactly where it needs to be. While cosmetic dental work will improve the look of your teeth, certain problems may slow or negatively impact your treatment. Below, you will find a few factors that can delay your procedures.
Gum Disease
Cosmetic dentistry is an esthetic type of dentistry meant to transform your teeth so you can have the smile you deserve. But gum disease, or periodontitis, can put a pause on certain procedures, including porcelain veneers. If left untreated, periodontitis damages your soft tissue and can result in the deterioration of your jawbone. The presence of gum disease doesn't mean you can't get veneers, but this condition will need to be treated before you can. Teeth afflicted with gum disease can be unstable and may not be able to support veneers.
Cavities
Cavities are formed when decay goes untreated and eats away at enamel. These tend to be the most common reason dentists put a pause on cosmetic procedures. All cavities must be removed, cleaned, and filled. Even if you wanted to get tooth-colored fillings, there can't be any decay left in the area. Why? Because decay could damage the root of your tooth and even your jawbone.
Teeth Grinding
Some people grind their teeth unconsciously while they sleep, but some grind their teeth in reaction to stress. Bruxism, as teeth grinding is called, puts a lot of force on your teeth and has allowed some to grind their teeth down to nubs. This can be catastrophic for dental bonding and even veneers. In efforts to help with this, your dentist can create a custom-made dental guard to absorb the pressure from your teeth clenching or grinding habit.
If you have evidence of decay, infection, or on-going disease, moving forward with cosmetic treatments could result in major discomfort during the procedure, or you may not get the beautiful outcome you hoped to achieve. Your best bet is to find a dentist you can trust and follow their advice on the resolution of any issues you have before taking any final steps. This way, you can get cosmetic dental care along with a healthy smile.
About the Author
Dr. Nelson Howard and his team of dental professionals pride themselves on offering the perfect combination of high-quality dental care and customer service. As an accredited member of the American Academy of Cosmetic Dentistry, Dr. Howard's precise eye gives him an edge when it comes to performing cosmetic dentistry treatments. To learn more, contact the office at (760) 599-6559 or visit the website.