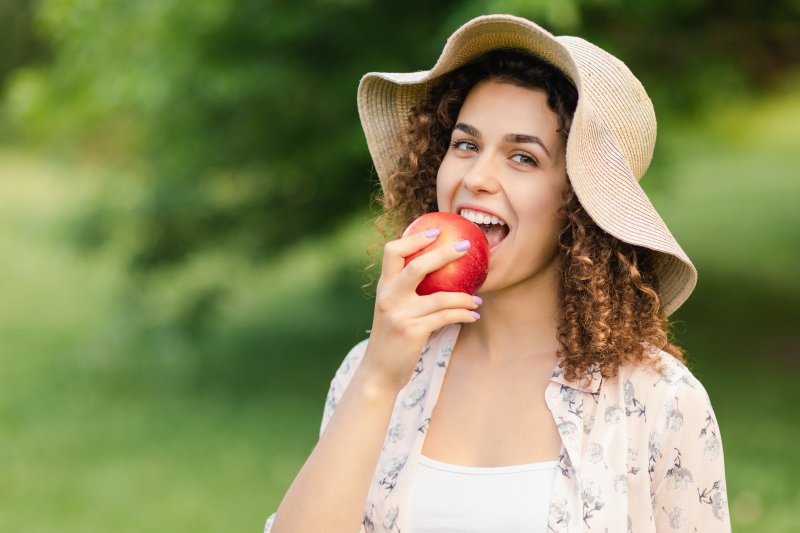 Everyone wants to have a healthy, beautiful smile that they can show off to the world. However, for optimal oral health, it is necessary that you stay committed to caring towards your smile on a daily basis. For people who want to work towards and maintain excellent oral health, there are some things you should get into the habit of doing every single day. Your dentist shares some steps you should be taking to work towards your smile goals.
Brush Properly
You already know that brushing twice a day is necessary for optimal oral hygiene, but are you brushing the right way? It is important that you brush using small, circular motions and reach the front, back, and top of every single tooth. You should use a soft-bristled toothbrush and be careful not to brush too hard. Vigorous brushing can damage your tooth enamel and cause gum erosion. Remember to change your toothbrush about every three months when the ends begin to look frayed.
Use Fluoride
This natural mineral is a leading prevention against tooth decay which is why it is added into many dental products. It comes from an element in the earth's soil called fluorine. Many communities in the United States add it to the water supply as recommended by the World Health Organization (WHO), Centers for Disease Control and Prevention (CDC), and the American Dental Association (ADA). Make sure that you are purchasing a toothpaste that contains this ingredient or else brushing becomes much less effective.
Floss Daily
Flossing is necessary in order to remove plaque and food debris from areas in your mouth that your toothbrush cannot quite reach. This includes between the teeth and beneath the gumline. In order to floss properly, gently push the floss all the way down to the gumline and hug the sides of the tooth with up and down motions. Do not snap the floss up and down because this can damage your gums and be painful.
Watch What You Eat
Having too many sugary foods can lead to cavities. The WHO recommends that sugar should be below 10% of your daily calorie intake. Starchy foods can be just as bad because they linger in the mouth and break down into simple sugars, which are fed on by acid-producing bacteria. Ultimately, you'll end up with more decay. Cut down on the breads and pasta. Instead, reach for high-fiber fruits and dairy products without added sugar.
Drink Water
Staying hydrated with plenty of water can help reduce your risk of cavities any other oral health issues because it limits dry mouth. Sugar sweetened beverages are the number one source of added sugars in the average American diet. Instead of soda or juice, stick to water or unsweetened tea.
Don't Smoke
Smoking can cause all sorts of different health problems. Your smile is not exempt from this. The CDC has named smoking as a risk factor for gum disease. It also causes discoloration, halitosis, and slows the healing process in the mouth after a dental procedure.
See Your Dentist
If you're not already on track with your dental checkups and cleanings, now is a great time to do so. Not only will you have plaque and tartar buildups removed, but your dentist near you will also be able to catch issues like decay, gum disease, and oral cancer early on so you can receive treatment.
In order to keep your oral health in the best shape possible, follow the steps listed above. Your smile will thank you!
About the Author
Dr. Nelson Y. Howard is a well experienced dentist who has been working in the field for more than three decades. He earned his DDS from the UCLA School of Dentistry and has completed thousands of hours of continuing education in order to say up to date with the latest techniques and technology. For more information on maintaining a healthy smile, visit his website or call (760) 599-6559.