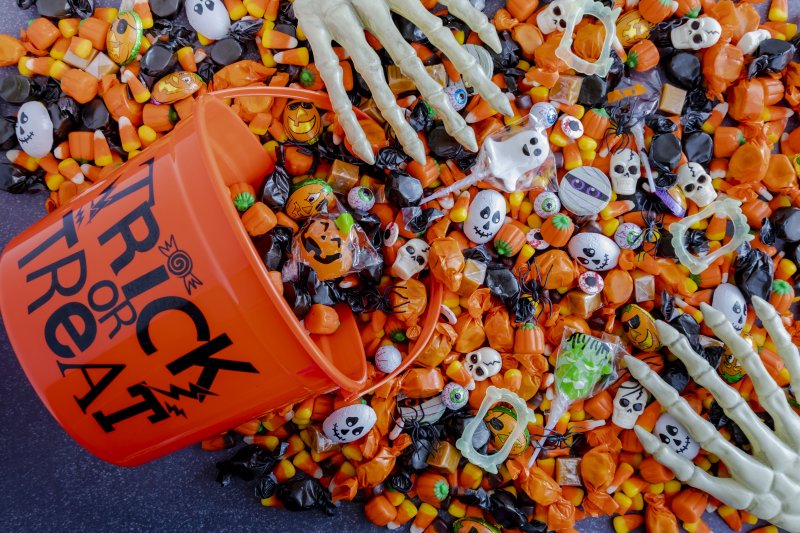 Halloween is just around the corner which means that it's time to get your costume ready and rent your favorite scary movies! Another thing that the spooky season brings around is heaps of candy. Even though a few sweet treats don't do much harm, if your family are constantly snacking on sugary sweets, they're bound to be spending more time in the dental office getting fillings. In order to prevent this, it's important to take steps regarding sweets this year. Continue reading for some Halloween candy tips to benefit your family's smiles.
Choose Candy Carefully
When it comes to Halloween candy, some sweets are worse than others. Stickier candies like taffy and gummy bears can stick to your teeth. Hard candies often require you to suck on them for a while. In the end, the longer a piece of candy is lingering in the mouth, the more damage it has the potential to do to your smile. It's best to stick to a sweet like chocolate that will melt and be washed away faster by your saliva.
Eat Candy at the Right Time
When you do have a sugary sweet, it is best that you have it during a meal or shortly after mealtime. This is because during meals, you experience an increase in saliva production. This will help to cancel out acids in the mouth that are caused by bacteria, therefore preventing damage to your teeth.
Drink Water
Water benefits nearly every part of your body, including your smile. Drinking fluoridated water helps to prevent tooth decay. It is also helpful against dry mouth. It keeps your body hydrated so you produce plenty of saliva to neutralize harmful acids and wash away cavity-causing bacteria from the mouth.
Have a Plan
As much as your family will want to keep their bags of candy around to snack on, it is important to make a plan beforehand on what to do with all of the sweets. Try giving your kids options. For example, they could pick out their favorites and you could store the rest away for a later time, it can be donated, or they can trade it in to you for a non-candy reward.
Maintain Good Oral Hygiene
Now more than ever, it is important to keep up a good oral hygiene routine. This includes brushing for two minutes twice a day with a fluoridated toothpaste and flossing once daily to remove plaque and food debris from between the teeth and beneath the gumline. Remind your children what good brushing and flossing technique looks like.
Chew Gum
A great alternative to sugary Halloween candy is a piece of sugar-free gum. They come in an assortment of different flavors, are just as sweet, and are beneficial for oral health. This is because gum increases saliva flow in the mouth, therefore washing away food debris and harmful bacteria.
See the Dentist
If your family isn't quite on track with their regular visits, now would be a great time to schedule an appointment. Having regular cleanings and checkups is essential for optimal oral health and preventing dental problems in the future.
This Halloween your family doesn't need to give up all of their candy, but by being aware and making smart decisions, you can all come out of the spooky season with happy, healthy smiles.
About the Author
Dr. Nelson Y. Howard is a well experienced dentist who has been working in the dental field for more than three decades. He earned his DDS from the UCLA School of Dentistry and has completed thousands of hours of continuing education in order to stay up to date with the latest techniques, materials, and technologies in dentistry. For more information on keeping your family's smiles healthy or to schedule an appointment at Dr. Howard's office in San Marcos, visit his website or call (760) 599-6559.