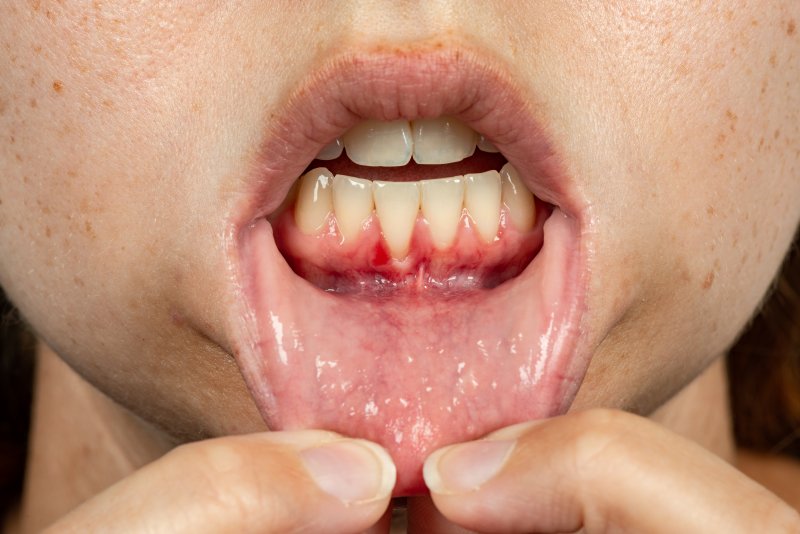 Gum recession is when the tissue surrounding the teeth either wears away or pulls back from the tooth, leaving more of the root exposed. Even though this is a common dental issue, many people are unsure why it occurs because it typically happens at a slow rate. Often time, the first sign is tooth sensitivity or when your tooth looks longer than it normally does. Continue reading to learn more from your dentist about the causes of gum recession and why this shouldn't be ignored.
Is Gum Recession Normal?
Even though this issue is very common, it is absolutely not normal. This is something to address with your dentist so you can get to the root of the problem and prevent it from worsening in the future. Fortunately, gum recession is generally easily preventable despite there being many different factors that contribute to it.
What Causes Gum Recession?
Here are some of the most common reasons for gum recession:
Gum disease: Having a bacterial gum infection destroys the gum tissue and is the most common cause of recession.
Vigorous brushing: Many people don't realize that they are brushing their teeth far too aggressively. This can cause both the enamel to wear away and the gums to recede.
Poor oral hygiene: If you aren't brushing and flossing enough, plaque and tartar can build up between the teeth and along the gumline. This can cause gum recession when not removed.
Hormonal changes: When hormone levels fluctuate due to puberty, pregnancy, or menopause, gums are more likely to become sensitive and vulnerable to recession.
Smoking: Using tobacco products increases your probability of developing periodontal disease, therefore making you more vulnerable to gum recession.
What Can Be Done About Gum Recession?
Even though gum recession can not be reversed, steps can be taken to prevent it from worsening in the future. Often times, your dentist will opt for tooth scaling and root planing. This is a type of deep cleaning where your dentist carefully removes plaque and tartar that has built up on the surfaces along and below the gumline in order to prevent it from causing more damage. They may also prescribe you with an antibiotic to help fight off any remaining bacteria in the gums. For severe gum recession, surgery may be required to resolve the issue.
How Can Gum Recession Be Prevented?
In order to prevent future gum recession, take the following steps:
Use a soft-bristled toothbrush. This prevents the probability of damage to the soft tissues of the mouth.
Stop smoking tobacco products for good. Ask your doctor, friends, and family about the best ways you can quit.
Floss every day. This helps to remove plaque from between your teeth and beneath the gumline.
Eat a well-balanced diet. Too much sugary and starchy food means more harmful plaque on the teeth.
See your dentist for regular cleanings and checkups.
Gum recession isn't normal, but by taking the right steps, you can prevent it from occurring in the future and maintain a healthy smile for years to come.
About the Author
Dr. Nelson Y. Howard is a well experienced dentist who has been working in the field for more than three decades. He earned his dental degree from the UCLA School of Dentistry and is one of 370+ dentists in the world to be an Accredited Member of the American Academy of Cosmetic Dentistry (AACD). Dr. Howard provides periodontal therapy as one of his many services. For more information on maintaining healthy gums or to schedule an appointment at his practice in San Marcos, visit his website or call (760) 599-6559.