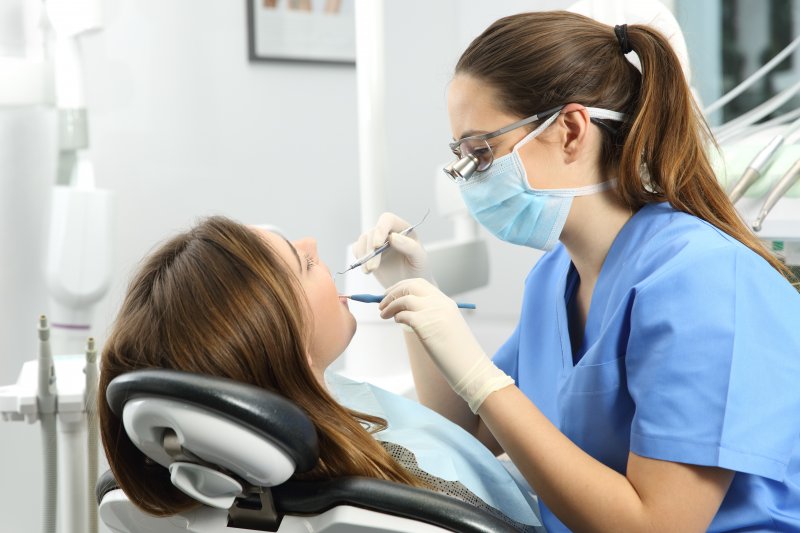 Just like how it's important to go to your doctor for regular checkups, seeing your dentist every six months is crucial to maintain good oral health. There is so much more to your appointment than just having your teeth polished. In fact, staying up to date with your visits could save your life! Continue reading to learn some reasons why you shouldn't skip out on your regular appointments.
Even if you are the most diligent brusher and flosser in the world, you will still miss some hard to reach places in your mouth. This will eventually result in buildups of plaque and tartar. When you visit the dentist, your teeth are cleaned using special tools to remove these buildups, therefore preventing future issues like tooth decay and gum disease. During this time, your dentist also checks for preexisting tooth decay. This way, you can have it treated before it progresses any further.
Checking for Gum Disease
If you don't have plaque and tartar removed from your teeth, you are more likely to develop gum disease. Your dentist is trained to detect early signs of gingivitis so that it can be treated before progressing to periodontitis. When it's in its early stages, gum disease can be reversible. However, if it progresses too far, you could experience loose teeth and even tooth loss.
X-Rays
When you go to the dentist, often times they will take an x-ray of your mouth. This is helpful to spot any potential issues that your dentist is unable to see from his eye alone. This could include impacted teeth, swelling, jawbone issues, cysts, or tumors. By catching these things early on, they are more likely to be able to be treated before they become serious.
Oral Cancer Detection
Your dentist checks for more than just tooth decay and gum disease when you go to the dentist. Oral cancer is very serious, but it can usually be easily treated when it is caught and diagnosed early. You may not notice that it's there, but your dentist will!
Checking for Abnormalities
Along with everything else your dentist is keeping an eye out for, he's checking for abnormalities that could indicate something serious going on elsewhere in the body. This includes swelling or lumps around your neck, jawbone, and lymph nodes. If there is something wrong, your dentist can help to spot it!
Becoming Educated
Your dentist will be able to give you potential reasons for any of your oral health issues. This could be anything from tobacco usage to drinking too much soda. He will be able to inform you about which habits you should work on changing and how to improve your oral health in general. This way, you will know exactly what you should do to build up a healthier lifestyle.
Skipping out on your dental appointments may not seem like a big deal, especially if you aren't in any pain. However, seeing your dentist regularly is extremely important for your oral health and you could even make some life-saving discoveries.
About the Author
Dr. Nelson Y. Howard provides a wide array of services at his practice in San Marcos, CA. He earned his dental degree from the UCLA School of Dentistry and has gained over three decades of experience. He is the President and Founder of the West Coast Society for Cosmetic Dentistry and was a past president of the Southwest Chapter of the AACD. For more information or to schedule an appointment, visit his website or call (960) 599-6559.