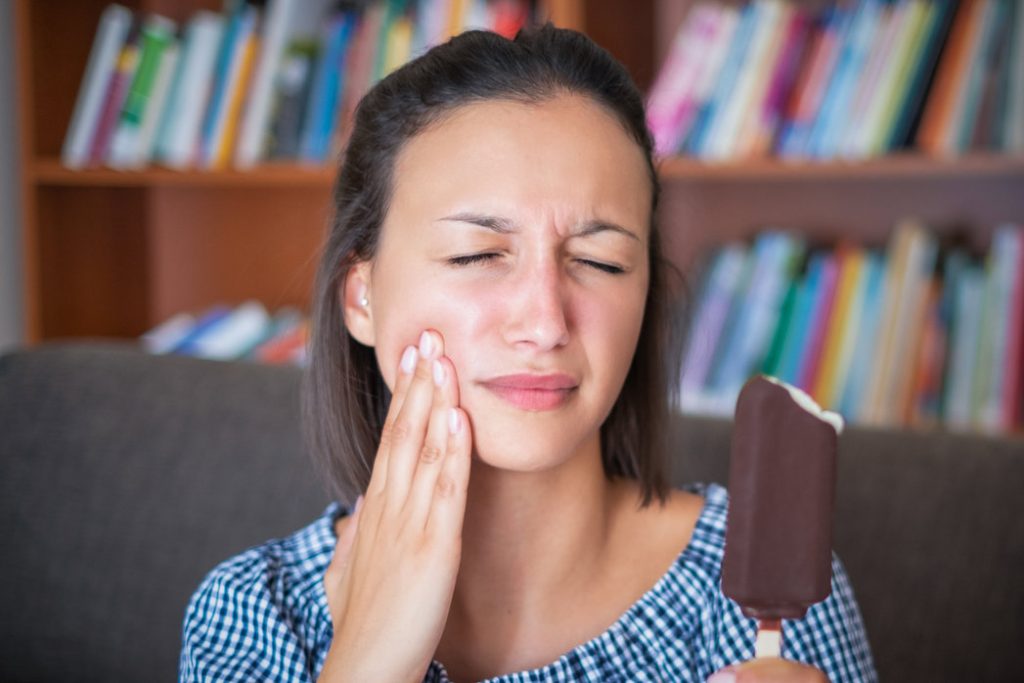 One of the few pleasures you still have during the COVID-19 crisis is enjoying a good meal. However, if you have sensitive teeth, that can be difficult to do. According to a study in the Journal of the American Dental Association, 1 out of every 8 people in the U.S. has sensitivity problems. Despite how common the issue is, most people don't know what to do about it. Read on to find out what causes tooth sensitivity and what actions you should take to relieve it.
Why Are My Teeth Sensitive To Hot And Cold Foods?
Your teeth are actually composed of multiple layers. The outermost layer is known as enamel. It is extremely tough and protects the layers underneath it. When the enamel breaks down, it exposes the softer dentin layer. This layer contains very small fluid filled tubes. When substances move against them, they trigger a pain response. If foods are very hot or very cold, the intensity of this response increases.
What Causes Sensitive Teeth?
Behaviors that wear down your enamel will eventually cause tooth sensitivity. These include:
Eating sugary foods
Drinking carbonated beverages
Brushing aggressively
Grinding and clenching your teeth
When Should I Seek Emergency Care?
Not every case of sensitive teeth requires urgent care. However, you should reach out to your emergency dentist for assistance immediately if you see any of these signs accompanying your pain:
Bleeding gums
Persistent toothaches
Swelling
Cracked Teeth
Exposed tooth roots
If your sensitivity is mild and only occurs when you're eating, you likely can wait until your next preventive care appointment for help. Your dentist will be able to provide you with specialized toothpastes and gels that can help reduce your sensitivity over time.
How Can I Treat Mild Sensitivity At Home?
Protecting the integrity of your enamel is key to controlling tooth sensitivity. You can do this by:
Brushing after each meal with the proper technique. Use gentle brush strokes at a 45-degree angle to the gum line.
Utilize over the counter sensitivity toothpastes and mouthwashes.
Limit your consumption of sugary snacks. They allow bacteria to carry out the processes that destroy your enamel.
Drink more tap water. Many cities add fluoride to their water. This mineral has the power to fortify the enamel on your teeth.
You should spend time savoring food, not worrying about whether or not it is too hot or cold. Let your dentist know about sensitivity issues when they arise so that they can help you get back to enjoying your meals.
About the Author
Dr. Nelson Howard believes in providing patients with dental solutions that are both functional and good looking. He is the founder of the West Coast Society for Cosmetic Dentistry and is a member of the American Society for Dental Aesthetics. If you'd like his assistance with your sensitive teeth, you can contact him through his website or at 760-599-6559.