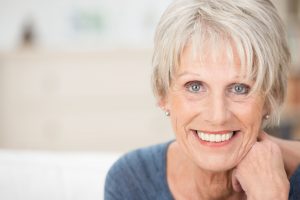 As you age, your health needs will change. While you might only think this applies to eating a heart-healthy diet or taking activities a bit slower, your smile will also experience the effects of aging. Over the years, your dentist will address your dental needs because you'll be at risk of common age-related concerns. Here are 7 issues you need to be mindful of to keep your smile healthy.
1. Dry Mouth
Also known as xerostomia, dry mouth is associated with age because many people will need medications that can cause a decrease in saliva production. In fact, as much as 90% of people who are over 65 years old are on a medication that can cause dry mouth. This creates the perfect breeding ground for bacteria that can lead to cavities and gum disease. Drinking a glass of water more often will help keep the mouth moist.
2.Bad Breath
Everyone experiences bad breath occasionally, but if it's an ongoing problem, it's called halitosis. Often, it's caused by an underlying problem, like an untreated dental issue or poor maintenance of your dentures. A proactive approach to your oral hygiene can prevent odor-causing bacteria from developing in your mouth.
3. Tooth Loss
New innovations in dentistry make it possible to preserve natural teeth for longer; however, 27% of seniors have suffered complete tooth loss. This can lead to nutritional deficiencies that can harm your health. Your dentist can replace your teeth to restore a functional, beautiful smile.
4. Tooth Decay
Tooth decay is preventable, but 92% of adults have had at least 1 cavity in a permanent tooth. Besides poor oral hygiene habits and frequent sugar consumption, untreated dry mouth can increase your risk of decay. Maintaining your oral hygiene at home, limiting sugar in your diet, and drinking plenty of water can help prevent cavities as you age.
5. Gum Disease
Although gum disease is preventable, it's the leading cause of tooth loss in the U.S. While anyone can develop the infection, older citizens are prone to it because they may struggle to maintain their oral hygiene or skip regular dental visits. You can benefit from the power of early detection by seeing your dentist at least every 6 months.
6. Tooth Discoloration
It's normal for your teeth to turn yellow as you age because your enamel thins, causing more of your dentin to show. While it may look unattractive, it's only an aesthetic issue; however, if you start to experience tooth sensitivity, it's time to see your dentist. Cosmetic dentistry can help turn back the hands of time to reveal a brighter smile.
7. Poorly Fitting Dentures
Over time, your dentures won't fit as well as they had in the past. The slipping and irritation can lead to painful sores. It's best to have your dentist reline your dentures regularly.
Dentist Near Me for a Healthy Smile
With the right care at home and from your dentist, you can help ensure your smile lasts for a lifetime.
About Dr. Nelson Y. Howard
Dr. Nelson Y. Howard earned his dental degree in 1986. After completing a residency in general dentistry, he has provided exceptional dentistry services to the local community. He treats patients of all ages to ensure your needs are met over the years through continuing education, like cosmetic dentistry. Contact our office today to schedule an appointment.