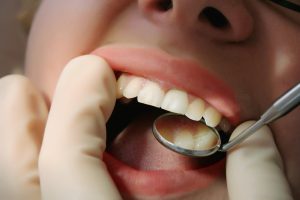 Getting a dental checkup every six months plays a key role in keeping your smile beautiful and intact. However, these regular visits are about so much more than keeping your pearly whites clean! They also give your dentist a chance to discover early warning signs of larger systemic health issues. Here are seven non-dental issues that your Sand Diego dentist might identify during your routine visit.
1.) Diabetes
Diabetes inhibits your immune system, which increases your risk of gum disease and oral infections. Symptoms like loose teeth, dry mouth, and bleeding gums may prompt your dentist to encourage you to visit your primary care physician for a blood glucose check.
2.) Infections
Your dentist may prescribe antibiotics if they notice signs of a mouth infection like swelling, redness, or drainage. If serious oral infections are left untreated, they may spread to other parts of your body, so its essential that these are treated right away.
3.) Oral Cancer
Oral cancer screenings are a normal part of every dental checkup. Your dentist will use specialized equipment to inspect your mouth for abnormal discolorations or lumps, especially if you smoke.
4.) HIV
In children, HIV can cause oral lesions and sores, while common symptoms for adults include white, red, purple, or brown spots in the mouth. Your dentist may recommend getting a blood test if they notice several of these warning signs.
5.) Stress or Anxiety
If you are dealing with unmanaged or subconscious anxiety, you may grind your teeth in your sleep. This weakens your enamel and leaves other indicators for your dentist to find. They may suggest using a customized nightguard to protect your smile while you look for ways to reduce your stress.
6.) Eating Disorders
Eating disorders like bulimia can be easy to hide from others, but not your dentist. Symptoms like dry mouth, bleeding gums, and enamel erosion from the inside of the front teeth are tell-tale signs your dentist is specially trained to recognize.
7.) Osteoporosis
Changes in the bones that support your teeth may result in loose teeth or a receding gumline. If your dentist sees these warning symptoms, especially in patients at a higher risk of osteoporosis, they may encourage you to see your primary care physician for a bone density test.
Remember, your beautiful smile isn't the only part of you that benefits from regular dental checkups! Seeing your dentist twice a year may help you catch a serious health issue early and increase your chances of successful treatment!
About the Author
At the Center for Advanced Cosmetic & Implant Dentistry, we are proud to provide excellent preventive care for the smiles of Sand Diego and San Marcos, CA. Dr. Nelson Y. Howard was the first dentist in all of North San Diego County to be an Accredited Member of the American Academy of Cosmetic Dentistry (AACD), the largest association of dentists specializing in cosmetic dentistry in the world. Thanks to his years of experience, countless hours of continuing education, and state-of-the-art dental technology, he can help detect a wide variety of issues before they cause you damage or discomfort. If you'd like to know more about dental checkups, he can be reached via his website or at (760) 599-6559.