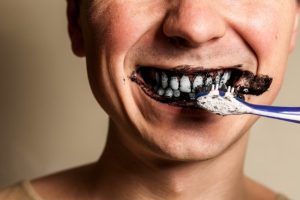 If you've been on social media at any point within the past few years, chances are you've come across posts and ads with people claiming to have whitened their teeth with activated charcoal. It seems a bit counterintuitive, though. How can applying a black paste to your teeth make them whiter? A cosmetic dentist is here to talk about how activated charcoal whitening works, if it's safe, and why you should probably invest in professional teeth whitening instead.
How Does Activated Charcoal Whitening Work?
Charcoal becomes "activated" when it's heated up using a gas that makes it become porous. It's typically sold in the form of tablets, which can be ground up into a paste and applied to the teeth. The pores in the charcoal are then thought to absorb surface stains on your enamel, the outermost layer of your teeth. However, it only binds to staining particles on the surface of the enamel, so for deeper stains, you're going to want to see your dentist for a more effective whitening treatment.
Is It Safe?
Although activated charcoal is 100% safe to consume, it can be abrasive to your teeth if scrubbed on. When applying it to your teeth, be careful to only lightly graze your pearly whites. Also, don't ever attempt to whiten your teeth if you have any sores or cuts in the soft tissues in your mouth. Let them heal first.
So, How Do You Do It Without Damaging Your Teeth?
Once you've purchased and ground up a couple of activated charcoal tablets into a fine dust, add in just enough water to create a paste. Apply the paste to your teeth. To avoid damage, dab the solution onto your teeth without rubbing it in. Leave the mixture on your teeth for about three minutes to give the charcoal time to absorb surface stains. Then, rinse your mouth out thoroughly before brushing your teeth clean.
Should You Get Professional Whitening Treatment Instead?
Even though it's possible to whiten your teeth with charcoal without causing damage, you're much better off seeking treatment from your dentist. Professional teeth whitening poses no risk of being abrasive against your teeth. Additionally, your dentist knows how to prevent sensitivity that often comes with over-the-counter whitening products like activated charcoal. When in doubt, ask your cosmetic dentist what the best option would be!
About the Author
Dr. Nelson Howard is a 1986 graduate of the UCLA School of Dentistry. He is one of only a few hundred dentists across the country to be an Accredited Member of the American Academy of Cosmetic Dentistry, the world's largest association of dentists who specialize in cosmetic treatment. His practice offers take-home whitening kits that are virtually guaranteed to provide better results than activated charcoal could ever deliver. To learn more, visit Dr. Howard's website.