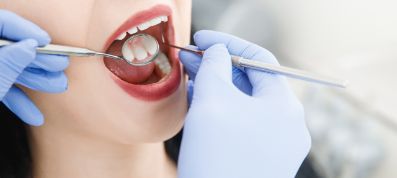 Have you ever felt like "just another number" at the dentist before? Unfortunately, that's not an uncommon experience. Many people feel like they just don't get the time, attention and care they're after, which can have a big impact on their oral health. If you're looking for a new dentist and want quality care from the start, learn more below about the outstanding dentistry you'll get from Dr. Nelson Howard. You'll also find out what you can expect from your first dental visit with us and how you'll receive highly-skilled, compassionate care at every appointment!
What Sets Dr. Howard Apart?
True expertise only comes with experience, and Dr. Howard has been practicing for nearly 35 years. But he goes above and beyond by combining his experience with extensive ongoing training and professional involvement. In fact, he's one of just a few hundred dentists worldwide who is an Accredited Member of the American Academy of Cosmetic Dentistry.
In addition to being a highly sought-after specialist in cosmetic work, he's also completed advanced training in implant dentistry. This allows him to handle every step of the dental implant procedure in-house, without the need to refer our patients to outside offices.
But perhaps the biggest testament to the care we provide is the feedback from our patients. Dr. Howard and our staff consistently get 5-star reviews – and we work hard every day to keep it that way! Here are just some of the ways we put our patients' needs first:
Two locations to make your visits more convenient.
Modern equipment and technology means more comfortable and efficient dental work (including digital X-rays with up to 90% less radiation, laser dentistry for faster healing, and intraoral cameras to show you up-close images of your teeth and gums.)
Multiple sedation options to make sure every patient stays comfortable throughout their appointments.
Amenities like noise-canceling headphones, warm blankets, neck pillows, TVs in every room, and more.
What Will Your First Dental Visit Be Like?
At your first dental visit, we'll spend time getting to know you and discussing your goals and any concerns about your teeth and gums. With a focus on comprehensive care, Dr. Howard will perform a thorough evaluation to assess every aspect of your oral health, including:
A review of your medical and dental history, as well as a baseline blood pressure reading.
Photographs and X-rays to look for cavities underneath fillings, crowns, and in between your back teeth.
An exam to make sure your jaws and temporomandibular joint (TMJ) are healthy.
A gentle assessment of your gums. If we find evidence of gum disease (also called periodontal disease), we'll discuss treatment options and whether a different type of cleaning would better serve your needs.
A professional cleaning and polishing.
An easy, non-invasive oral cancer screening that takes just minutes.
A clinical exam to make sure your existing dental work is doing well and see if you need any treatment. If so, Dr. Howard will consider your lifestyle, age, diet, budget and more before making a recommendation. Lastly, he'll answer any questions you have.
Ultimately, our goal is to make sure you have a great experience at every appointment while keeping your smile healthy and beautiful. If you or a loved one needs high-quality dental care, don't hesitate to contact us!
About the Author
Dr. Nelson Y. Howard has been a family dentist for over 3 decades and actively leads a number of professional organizations. He's known for providing outstanding comprehensive dentistry for patients of all ages and looks forward to many more years of service. If you're looking for a new dentist or have any questions, you can reach Dr. Howard via his website.