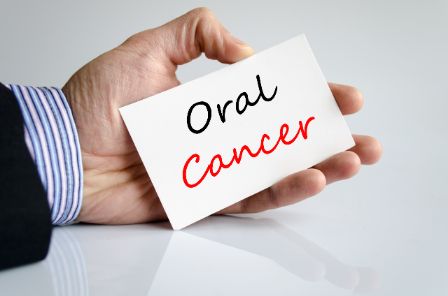 Most people associate checkups at the dentist with a cleaning and cavity check. But these visits also include incredibly important oral cancer screenings that you don't get anywhere else. Sadly, oral cancer is on the rise and healthcare providers have been alarmed to see more and more cases, even in younger people who have never smoked. But the good news is that, with early detection, the survival rate is 85%-90%. Learn more about oral cancer below and how you can reduce your risk. You'll also find out fast and easy screenings are so you know what to expect!
How Common Is Oral Cancer and How Can You Reduce Your Risk?
It's estimated that 53,000 people in the U.S. are diagnosed with oral cancer each year, or 132 people each day. Risk factors include tobacco and alcohol use, HPV, a weakened immune system, age, and sun exposure on the face and lips. However, even people with none of these risk factors can develop oral cancer. Here are some ways to reduce your risk:
Quit smoking and chewing tobacco (or never start).
Consistently wear lip balm with sun protection.
Eat plenty of fruits and vegetables.
Abstain from alcohol or limit it to one drink per day for women or two drinks per day for men.
Schedule regular checkups.
What Can You Expect From an Oral Cancer Screening?
One of the biggest advantages of oral cancer screenings is that they're easy, non-invasive, and convenient. In fact, you've probably had them before without even realizing it. During each checkup, both your hygienist and dentist spend time looking at all the soft tissues in your mouth, including your lips, throat, palate, and under your tongue.
If they see anything that looks suspicious (such as red or white patches, asymmetrical ulcerations, or callous-like tissue), they'll either ask you to return in 10-14 days for another look or refer you to a specialist for further evaluation. Keep in mind, seeing something of concern is not an oral cancer diagnosis. It simply means more information is needed. There are many examples of non-cancerous conditions (such as lumps of fatty tissue) that simply need to be ruled out as harmless.
Ultimately, checkups are designed to help you maintain good oral health by finding problems in their earliest stages, when treatment is most effective. And these visits not only keep your smile healthier – they can also save your life!
About the Author
Dr. Nelson Y. Howard has nearly 35 years of experience as a family dentist as well as a long track record of professional excellence. He knows that regular checkups and oral cancer screenings help his patients maintain beautiful smiles and also lead happy, healthy lives. If you'd like to know more about oral cancer or have any questions, he can be reached through his website.