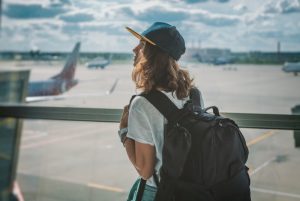 Each year, a different member of your family hosts your holiday dinner, which is why you'll be travelling out of state this season. While it's always nice seeing your loved ones, it can be a hassle getting everything organized to leave your home, filling you with stress and anxiety. It can be hard taking care of your basic needs like your dental hygiene when you're in an unfamiliar environment with so much going on. To make it easier caring for your mouth this holiday season, read on for four oral health travel tips from your dentist.
Don't Use Your Teeth to Open Presents
Although it may be tempting to tear open presents with your teeth instead of waiting for someone to grab the scissors, this can be a costly action that lands you with an unexpected visit to your local emergency dentist. Using your teeth as tools while you're away may seem convenient because you're not certain where the actual tools are located, but it can wear down your teeth and increase your risk of chipping, breaking, or cracking them, which can put a massive damper on your celebrations.
Quit Bad Oral Habits
Many people have bad subconscious habits that can harm the health of their teeth and gums, such as nail-biting, chewing on tips of pens, and crunching ice. All of these can not only increase your risk of damaging your teeth, but they also cause enamel erosion and harmful bacteria to transfer from various objects to your mouth. While you're gone for the holidays, try occupying your mouth and hands by chewing sugar-free gum or fiddling with a stress ball, placing your teeth out of harm's way.
Minimize Your Stress
The holidays are notoriously stressful due to busy schedules. If you're out of town and staying at a family member's house, it can cause additional anxiety because you're in an unfamiliar environment. Unfortunately, this can manifest into bad habits such as grinding and clenching your teeth. The best way to keep this from happening is to take time to yourself by removing yourself from situations that are stressful. You can also get a customized nightguard to cushion your facial muscles, jaw, and teeth and prevent damage from occurring.
Avoid Sticky and Chewy Sweets
If your family loves baking for the holidays, it can be tempting to indulge in all of your favorite sticky and chewy sweets. Unfortunately, these are the worst items to eat for your oral health because your saliva often isn't strong enough to remove the residue from your teeth, allowing it to settle and expose your mouth to sugar that attracts harmful oral bacteria. This can increase your risk of enamel deterioration and cavity formation over the holidays. To avoid this, drink plenty of water and remember to brush, floss, and rinse your mouth with antibacterial mouthwash regularly.
The best way to kick off a joyful holiday season is to schedule a checkup and cleaning with your dentist to get a clean bill of health. That way, you can leave town without putting your smile at risk of becoming damaged and truly get in the holiday spirit!
About the Author
Dr. Nelson Howard is a highly experienced dentist with decades of experience. He has two practices that focus on providing his patients with comprehensive dental treatments in San Marcos and Rancho Bernardo. Over the course of his career, he has completed thousands of hours of continuing education courses to be able to provide his patients with the highest quality of care. He is also an active member of several professional organizations, including the American Society for Dental Aesthetics, Dental Organization for Conscious Sedation, and many others. For questions or to schedule an appointment for a checkup and cleaning, visit his website or call 760-599-6559.