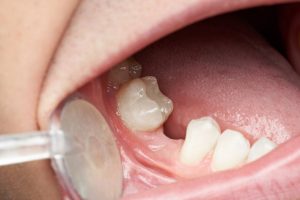 If you're missing a front tooth, you probably want to get it replaced as soon as possible, even if it's just for purely cosmetic reasons. Missing back teeth, or molars, are often not given as high a priority because they're not visible in your smile. However, there are multiple reasons why you should replace missing back teeth with dental implants. Let's look at what happens if you don't.
Effects of Missing Teeth
Besides their obvious role in helping you chew food, your molars affect your overall bite and play a few roles you might not have considered. Your dentist will tell you that missing back teeth can have lots of consequences, such as:
Decrease in chewing efficiency
Migration and rotation of adjacent teeth to fill in the gap
Excessive wear and tear on remaining teeth
Deterioration of your jawbone from lack of stimulation by tooth roots
Dysfunction in your temporomandibular joints (TMJ) that connect the lower jaw to the skull
More Than Just Cosmetics
Missing teeth, even back teeth, can actually have a profound impact on your appearance, even if the tooth itself is not visible in your smile. Lack of stimulation from your tooth roots can cause the jawbone to shrink from disuse in that area. It can also cause your facial muscles to sag. Together, this can make your face appear more wrinkled, thus making you look significantly older than you actually are.
Now you know that replacing a missing tooth, even a molar, can seriously affect the way you look. So, how can you replace that tooth? Most dentists will tell you that dental implants are by far the best option.
How Dental Implants Can Help
Dental implants are the only solution to tooth loss that replaces not just the visible part of the tooth (known as the crown), but the root as well, or the part underneath the gumline. They are surgically inserted directly into the jawbone. Eventually the jawbone will grow around the implant until it's basically a part of your own anatomy. Your jawbone will remain strong and healthy for decades to come.
Implants will also prevent your remaining teeth from shifting to try and fill in the gap left behind by your missing tooth. They essentially prevent every problem listed above by replacing your missing tooth just about perfectly.
If you're missing a back tooth, it can be tempting to not replace it since it's not visible. However, it's well worth it to get a dental implant to fill the gap in your mouth. The next time you're wondering "should I replace a back tooth?" know that the answer is yes!
About the Author
Dr. Nelson Y. Howard is a member of the American Academy of Implant Dentistry and has completed thousands of hours of continuing education in dental implant courses. Implant dentistry is one of his areas of focus at his practice: Center for Advanced Cosmetic & Implant Dentistry in the cities of San Marcos and Rancho Bernardo, CA. To schedule your free consultation for dental implants, click here to contact Dr. Howard's office.