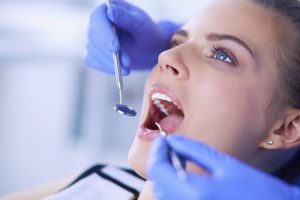 You brush your teeth every morning and every night, you floss before bed, and you even top it all off by rinsing with an antibacterial mouthwash. Yet every time you visit your dentist, they seem to find cavities. You do everything you're supposed to, so what gives? As it turns out, some people are simply more susceptible to getting tooth decay than others. Why is that? Let's examine 4 reasons why.
1. Diet
Consuming too many sugary snacks and beverages is one of the most obvious reasons why you might be getting more cavities than your peers. Unless you brush your teeth immediately after eating or drinking, sugar sits on and between your teeth and along the gumline. These sugars become fuel for bacteria that create harmful acids that erode your tooth enamel, causing cavities.
To combat this, try substituting your sugary drinks for water. It rinses out any leftover sugar particles in your mouth that might result in decay. Replace your sweet snacks with healthier options like fruits and veggies. The skins of certain fruits and vegetables actually clean your teeth as you eat them, reducing your chances of getting cavities.
2. Oral Bacteria
Everyone has bacteria in their mouth, but some people's microbes are more aggressive than others. These bacteria can feed on food particles left behind on the teeth, creating acid that forms holes in the tooth's enamel. You can't control this, but you can decrease your risk for cavities by rinsing with an antimicrobial mouthwash at least once a day.
3. Dry Mouth
If your mouth feels dry on a regular basis, it could be negatively affecting your dental health. Dry mouth means there isn't enough saliva to wash away bacteria and food particles and strengthen your teeth. It could be a side effects of medications, cancer treatments, or other sickness. Sip water throughout the day to make up for your mouth's lack of natural moisture.
4. Gum Recession
If your gums pull back from the teeth far enough, it could expose the sensitive roots of the teeth, making them vulnerable to cavities. To avoid causing further recession, brush with an ultra-soft toothbrush every day and floss as well. Also, talk to your dentist to make sure your gum recession is not due to a larger health issue.
Now you know why you might be getting more cavities than those who don't brush and floss as diligently as you do. For more information about what's causing your cavities, talk to your dentist.
About the Author
Dr. Nelson Y. Howard earned his dental degree from the UCLA School of Dentistry in 1986. Following that, he completed a one-year General Practice Residency at the V.A. Medical Center in Los Angeles. He has two full-service practices devoted to cosmetic, implant, and restorative dentistry at his Center for Advanced Cosmetic & Implant Dentistry in the cities of San Marcos and Rancho Bernardo, CA. For more questions on why you might be developing more cavities than your peers, you can contact Dr. Howard here.