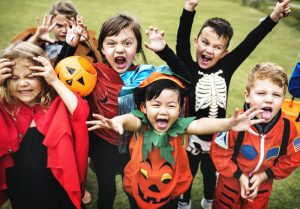 As a parent, there's nothing that makes you happier than seeing your little one excited about trick-or-treating. The only bad part about the holidays is that you know your child will be eating more candy than normal, and you're worried how that will impact their teeth. According to the National Institute of Dental and Craniofacial Research, 42 percent of children between the ages two and 11 have had cavities in their primary teeth. To keep your little one from becoming a part of this statistic, follow these Halloween candy tips from a dentist.
The Formation of Cavities
You're never too old to defend your mouth against cavities. However, children are most at risk because they typically aren't as diligent about oral hygiene, and their small teeth are more susceptible to developing them.
The formation of cavities all begins with plaque accumulation. Plaque contains sugars and carbohydrates that feed harmful oral bacteria. As they consume this substance found on your teeth, they release waste in the form of enamel-eroding acid and toxins. As your strong enamel deteriorates, the more sensitive and fragile layers of your teeth start to decay, causing cavities and eventually, tooth infections if the issue is left untreated.
Halloween Candy Tips For Good Oral Health
Because harmful oral bacteria feed off of sugar found in plaque, excessively consuming sweets and Halloween candy over the holidays can put your little one at an increased risk of developing oral health issues. Here are some ways you can keep your household cavity-free:
Avoid sticky and chewy candies.
Bring your child to their dentist for a checkup and cleaning.
Substitute healthier snacks for candy, like apples.
Keep them hydrated with water.
Encourage them to chew sugar-free gum to increase saliva production.
Get them to brush after each meal, or at least twice every day for two minutes.
Encourage an enamel-strengthening diet with white dairy products and multivitamins.
Children's dentists also offer preventive treatments to keep cavities from developing in your little one's mouth. These include dental sealants and fluoride treatments to make their teeth stronger and more resilient.
Encourage Your Child To Get Excited About Their Oral Health
Over the holidays, your child's daily routine and diet will get shuffled around. With all the excitement, it's a good idea to take extra steps to encourage them to get excited about keeping their pearly whites looking and feeling healthy.
You don't have to sacrifice your child's Halloween fun for the safety of their oral health. Instead, implement these precautionary measures to avoid problems from ever developing in the first place. With great at-home oral hygiene and professional care over Halloween, and during every other month of the year, they'll have a smile that they'll be proud to show off, even as an adult!
About the Author
Dr. Nelson Howard was the first dentist in North San Diego County to become an Accredited Member of the American Academy of Cosmetic Dentistry. Those aren't the only services he offers, though. He provides families with thorough, high-quality preventive care that tackles oral health problems while they're still small. With decades of experience under his belt and an unwavering passion for improving his patients' confidence and overall wellbeing and quality of life, families that visit him feel comfortable and well cared-for in his hands. For questions or to schedule a routine checkup and cleaning for your family, visit his website or call 858-451-0550.