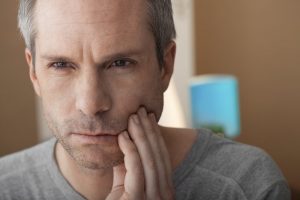 Very few things can ruin your day faster than a toothache. A sudden pain shooting through your mouth can make you unable to focus on anything else until the problem is solved. Besides making the discomfort go away, the next thing on your mind is usually "why is this happening?" A dentist is here to talk about the top 10 reasons why you have a toothache.
1. Tooth Decay
The most likely reason your tooth hurts is because you have a cavity. In order for the cavity to be painful, decay has to have reached the sensitive layer of the tooth underneath the enamel, called the dentin. If your dull ache turns into a sharp, intense pain that makes it hard to go about your daily life, that might be a sign that decay has reached the center of the tooth. You might need a root canal to relieve you of this pain.
2. Abscess
Is it hard for you to tell which tooth your pain is coming from? You might have a dental abscess, which occurs when decay affects the root of the tooth. This issue needs to be dealt with as soon as possible, as otherwise it could result in bone and tissue loss.
3. Gum Disease
If you have a dull pain above or below your teeth, it might be a sign of gum disease. Gum disease is an infection characterized by swollen, red, or tender gums that may bleed easily. If you notice that your gums have become inflamed, see your dentist immediately.
4. Tooth Fractures
Minor chips and cracks in your tooth may not hurt, but once the fracture reaches the sensitive inner layer, it can cause excruciating pain. This is why it's best to get even small injuries to the teeth treated as soon as possible before they get worse.
5. Sensitivity to Heat and Cold
If eating or drinking something hot or cold sends a searing pain through your mouth, you may have sensitive teeth. This can happen because you whitened your teeth recently, or it can be a result of worn-down enamel and exposure of the dentin. Use toothpaste designed for sensitive teeth. If that doesn't work, ask your dentist for more options.
6. Damaged Fillings
Fillings often protect sensitive areas of the tooth that have been hurt by decay or injury. When fillings are damaged, it can cause severe pain. If you think you have a damaged filling, contact your emergency dentist right away before the vulnerable parts of your teeth get even more damaged.
7. Bruxism
Bruxism is also known as teeth grinding, a habit that many of us aren't even aware we have since it often takes place while we sleep. If you wake up with jaw, neck, or tooth pain, ask your dentist to evaluate your mouth for signs of grinding. He or she may then prescribe you with a nightguard to stop the habit.
8. Forceful Brushing
Many of us brush our teeth hard in the hopes that it will clean our teeth better, but that's actually not true. Brushing too hard can wear down the enamel and cause sensitivity. Be sure to clean gently with a soft-bristled brush.
9. Misaligned Teeth
Teeth that aren't aligned properly can push up against one another, resulting in pain. Talk to your dentist about potential orthodontic work, or wisdom teeth removal. Wisdom teeth are notorious for pushing against molars and causing pain.
10. Orthodontic Alignment
After you get your braces tightened or a new set of Invisalign aligners, your teeth may need some time to adjust to their new position. However, if this discomfort persists for more than a few days, contact your dentist.
No matter the cause of your toothache, it's important to see your dentist right away if you experience any severe pain. If you avoid seeing a dentist, your toothache might get even worse.
About the Author
Dr. Nelson Howard graduated from UCLA School of Dentistry in 1986 and then opened his own practice with an office in San Marcos and Rancho Bernardo, CA. He focuses on preventive, restorative, and cosmetic dentistry. He can treat your toothache and make your smile beautiful to boot. To find out why your tooth is hurting, visit his website or call (760)-599-6559 or (858)-451-0550.