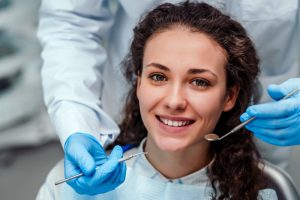 A lot of us try to be healthy in as many ways as possible. We schedule regular appointments with our primary care doctors, our eye doctors, our OB/GYNs. But not everyone sees their dentist twice a year like they should. It can bring so many benefits and prevent a whole bunch of health problems from developing. Here are 6 reasons why you should book a regular appointment with your dentist.
1. Treat Plaque, Tartar, and Cavities
Even when you brush and floss every day, there's a chance you missed a spot or two. When you don't brush an area of your mouth, plaque can build up and harden into a substance called tartar, which is almost impossible to get rid of without professional help. Tartar eats away at your enamel and causes decay. A dental hygienist can use special instruments to clean tartar away and prevent you from getting cavities.
2. Prevent Gum Disease
Cavities aren't the only danger of built-up plaque. It can also result in gum disease, a bacterial infection that irritates the gums and attacks the supporting structures of a tooth. When left untreated, gum disease can make the teeth loose and even cause them to fall out. By getting tartar regularly removed at your dentist's office, you can keep this whole mess from happening.
3. Screen for Oral Cancer
Oral cancer is a serious disease that can be fatal if not caught early enough. Your dentist is specially trained to recognize the signs of oral cancer. By visiting your dentist every six months, your chance of catching and treating the disease early, and curing it, is significantly higher.
4. Examine Your Head, Neck, and Lymph Nodes
In addition to checking your mouth and throat for early signs of oral cancer, your dentist can examine your neck, head, and lymph nodes just below your jawline for any abnormalities. If any swelling or lumps are found, your dentist will refer you to the appropriate medical professional to treat the problem.
5. Find Hidden Problems by Using X-Rays
X-rays are a modern miracle that allow dentists to diagnose problems that are invisible to the naked eye. They can use them to figure out the best course of action for treating a decayed tooth. Any instances of swelling, tumors, or cysts can also be detected. In order to treat them early, make sure you see your dentist twice a year.
6. Keep Your Bad Habits in Check
Your dentist can tell when your teeth have been damaged due to bad habits such as:
Smoking
Clenching or grinding your teeth
Biting your nails
Chewing ice
Brushing your teeth too hard
Drinking too much coffee or red wine
In addition, your dentist can prescribe treatment or give advice on how to quit or minimize damage from these habits.
It might not seem like a big deal to skip out on your dental appointments, but it can actually really hurt your health in the long run. Schedule a regular checkup today to make sure your oral health is in good shape.
About the Author
Dr. Nelson Howard is one of only 370+ dentists in the world to be an Accredited Member of the American Academy of Cosmetic Dentistry. He strives to make all his patients comfortable at their checkups at his two offices in San Marcos and Rancho Bernardo, CA. To book your checkup, visit his website or call his San Marcos office at (760)-599-6559.