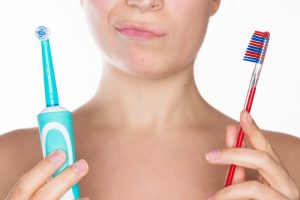 When you walk down the oral hygiene aisle at your local department store, all the different products can be overwhelming. How do you know which one is best for your mouth? Which product is worth the investment? Today, electric toothbrushes are significantly pricier than traditional toothbrushes. But, you want what's best for your mouth, and you're not sure if there will be that big of a difference between the two. Read on to get the pros and cons of electric and traditional toothbrushes from your dentist.
Electric Toothbrushes
You've probably seen various brands of electric toothbrushes at your department store. They have bristles that rapidly automatically move back-and-forth or rotate. They're also powered by small motors.
Pros
For children who dread putting effort into their oral hygiene, the electric toothbrush can be a fun option to encourage them to keep up with their mouth. They can save time and be more thorough when cleaning your teeth. Because they run on a small motor, they create anywhere between 6,000 and 30,000 brush strokes each minute. While they're able to save time because they're more effective, it's still important to make sure every tooth is cleaned. Additionally, these brushes are often easier to hold because they have grips and are thicker in size, giving you more to grab onto.
Cons
It's no surprise that electric brushes cost more than manual ones. In addition to the cost of the brush and the charging base, you still need to replace the head of the brush every three months like you would a manual one. If you're someone that travels frequently or you have little bathroom counter space, the electric toothbrush may be a bit bulky for you.
Traditional Toothbrushes
Manual toothbrushes are bristles connected to a holding/gripped device and they aren't powered.
Pros
The best thing about traditional toothbrushes is that you have more control over how it moves and cleans your teeth. You're able to guide the speed and strength at which you brush your gums, cheeks, teeth, and tongue. This way, if you have sensitive areas in your mouth, you can have a more comfortable experience. Additionally, they're cost-effective and typically priced under $10.  
Cons
The main downfall of manual toothbrushes is that they heavily rely on the user to have a great brushing technique. For people who have trouble taking the time to thoroughly clean their teeth and gums, this can be a huge problem. Also, people with motor difficulties, have a weak grip, have arthritis, or other conditions may have a hard time maneuvering a traditional toothbrush.
In short, for an effective and efficient clean, the electric toothbrush is your best bet. Although it's not the most cost-effective option, it is the best option for your oral health. Consulting your family dentist about what option would be best for you can give you the knowledge you need to make the best decision. No matter what your choice is, investing in your oral health is always a good thing to do!
About the Author
Dr. Nelson Howard has been giving his patients healthy and happy smiles for over three decades. He enjoys arming his patients the knowledge and treatment they need to maintain great smiles for years to come. As an active member of several professional organizations, he looks forward to providing his patients with trustworthy care. For questions or to schedule a routine checkup and cleaning, visit his website or contact  760-599-6559.