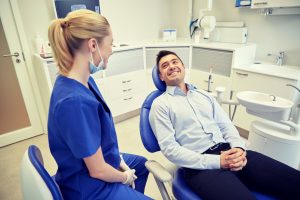 Visiting your dentist for a checkup at least every six months is crucial for your oral health. At these appointments, your dentist can diagnose problems with your teeth, gums, and mouth and prevent them from growing worse. However, by examining your mouth, your dentist might also discover that you have health issues in other parts of your body. Let's look at 5 non-dental issues your dentist might find at your appointment.
Diabetes
If you have loose teeth, dry mouth, and receding gums, your dentist might encourage you to visit your primary care doctor to test whether you have diabetes. Both Type I and Type II diabetes can weaken your immune system and lower your ability to fight infections, making you more susceptible to gum disease. Other symptoms of untreated diabetes include:
Increased hunger and thirst
Extreme fatigue
Blurry vision
Cuts and bruises that are slow to heal
If you think you might have diabetes, seek a diagnosis right away. Treatment can prevent serious dental problems down the road.
Stress
It's common knowledge that stress can negatively affect your heart and brain. But did you know it can also harm your teeth? Stress can manifest in your mouth in a condition called bruxism, or teeth grinding. Clenching or grinding your teeth is typically an unconscious behavior, and often happens during sleep. Your dentist can examine your teeth for signs of wear and tear due to bruxism, and prescribe a customized nightguard to protect your teeth from damage during the night. They might also recommend seeking counseling or other ways of reducing stress.
Poor Nutrition
If you consume a lot of sugary foods and drinks, your dentist will notice the wearing down of your enamel, or the outer layer of your teeth. They can also recognize if a patient has an eating disorder such as bulimia. While bulimia sufferers often hide their condition from everyone they can, it's difficult to conceal it from a dentist. Stomach acid can seriously damage the enamel and cause increased tooth sensitivity.
HIV
Unexplained warts, lesions, or spots in your mouth might be a symptom of HIV. It doesn't necessarily mean you have the disease, but if your dentist spots more than one of these signs, they might recommend you see your primary care physician for a blood test.
Osteoporosis
Osteoporosis is a disease in which bones become less dense and more fragile. This can include your teeth and jawbone. Your dentist might notice a receding gum line or loose teeth. These can indicate changes in the bone that supports your teeth. As with most of these conditions, your dentist will likely refer you to your primary care physician for a bone density test.
Regular dental checkups are about a lot more than just your teeth. If you find yourself unsure about the quality of your oral health, simply search "dentist near me" and search for one who can meet your needs. Schedule an appointment to ensure not only great dental health, but the health of your whole body too!
About the Author
At the Center for Advanced Cosmetic & Implant Dentistry, we provide outstanding customer service in a relaxing environment in both our San Marcos and Rancho Bernardo offices. Dr. Nelson Y. Howard's meticulous and caring nature helps him give patients the precise and gentle care they need. He explains the details of what he's doing to every patient, so they feel more comfortable and involved in the process. For more information on how he can help treat your oral and overall health, click here or call (760)-599-6559.