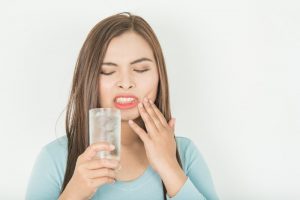 A survey of 37 dental offices in the United States found that 1 out of every 8 patients has sensitive teeth. If you can't stand the discomfort of eating or drinking items that are hot or cold, you're not alone. Knowing why your teeth are so picky when it comes to temperature can help you tackle the problem. Keep in mind that sensitivity could be a symptom of a more serious oral problem. Read on to learn the causes of tooth sensitivity and when it may be time to schedule an appointment to visit your emergency dentist.
Why Does Tooth Sensitivity Occur?
When you feel a searing pain from brushing, flossing, or when your teeth are exposed to air, cold, sweet, or hot foods, it's tooth sensitivity. When your teeth are healthy, your enamel protects the layer underneath it called dentin. Also, the sensitive roots of your teeth are protected by your gums. When your enamel is worn away or if your gums begin to recede, the dentin and your roots are left vulnerable. Tooth sensitivity can happen for a variety of reasons.
What Causes Tooth Sensitivity?
Because your dentin and roots are connected to the nerves in your tooth, they can trigger pain when they come into contact with something that's too hot or cold. Dentin has channels that connect directly to your tooth's nerves called microscopic tubules that cause pain when exposed. Some factors that can contribute to this condition include:
Brushing too hard.
Gum recession and periodontal disease.
Cracked or fractured teeth.
Teeth grinding.
Consuming excessive amounts of acidic foods.
Dental procedures such as cleanings, root planing, crown placement, or teeth whitening.
Long-term use of mouthwashes containing acids.
Sensitive teeth can never really be cured, but there are some things you could do to ease your discomfort or lessen the symptoms.
How Can You Treat Sensitive Teeth?
If your sensitive teeth are a result of trauma, schedule a visit with your emergency dentist immediately. There are many ways you can treat your sensitivity, but depending on the cause, you may need to visit your dentist for professional treatment. Some at-home treatments you could try include:
Switching to desensitizing toothpaste.
Using a soft-bristled toothbrush.
Limit your consumption of acidic foods.
Use fluoridated ADA-approved mouthwash daily.
Consider getting a mouth guard if you grind your teeth at night.
If these don't work and your sensitivity is caused by oral health problems, your dentist will recommend a treatment suited for your specific situation. Protect your mouth by brushing twice each day and flossing. This can help clear plaque and tartar buildup as well as protect your teeth and gums from harmful disease-causing bacteria. Visiting your dentist for your regular checkup and cleaning is the best way to keep on top of your oral health and treat symptoms such as sensitivity before they develop into something more serious.
About the Author
Dr. Nelson Howard knows that accidents happen and makes himself available to speak with his patients whenever they need him. He goes out of his way to advise and treat his emergency patients depending on their unique situations. With over 3 decades of experience under his belt, his patients trust his care and expertise. For any questions or to schedule an appointment, visit his website or contact 858-451-0550.