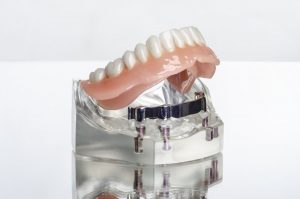 Whether you lost your teeth from decay or trauma, dental implants are a highly recommended restorative procedure. With missing teeth, the simple things in life like chewing and speaking can become difficult and frustrating. You can improve your quality of life and your oral and overall health by investing in implants. Other restorative options such as dentures can slip and shift in your mouth, creating awkward moments. As one of the most advanced newer treatments in the dental field, implants can offer you benefits that no other restorative treatments are able to. Read on to learn about the procedure and what it has to offer you.
What Are Dental Implants?
Dental implants are small titanium posts that are surgically inserted into your jaw to replace your natural tooth's root. Once these are placed, your implant dentist will then attach a connector piece called an abutment on top. This connector will hold your prostheses such as a crown, bridge, or denture.
What's The Process?
Repairing your mouth with dental implants is a process that can take anywhere from 6 to 9 months, which most patients will agree is well worth it. First, your titanium posts will be surgically placed. Your oral surgeon will make small incisions in your gums where the implants will go. After the implants are in place and the surgery is complete, your dentist will wait until your gums have healed and the posts have fused with your jawbone in a process called osseointegration.
Next, your implant dentist will connect the abutment that will hold your new crown, bridge, or denture. They'll take impressions of your gums with the abutments and posts in order to create your custom-fitted restorations.
The last step of the process is to place your restoration on your implants. They may check the shape and fit of the custom-made replacements before officially attaching them. After your replacement teeth have been placed, you may notice some soreness, but this isn't out-of-the-ordinary and should subside in no time.
What Are The Benefits?
No matter what your age, dental implants are a great choice for missing teeth. They can offer advantages that no other restorative treatment is able to. Some benefits of getting implants include:
Look and feel completely natural. Because implants are fused to your jawbone like your natural teeth are, they function and look nearly identically. Unlike traditional restorative options, you care for them just like you would your natural teeth. There's no need to remove them for cleaning or take them out while you sleep.
Durable and long-lasting. When you properly care for your implants, they can last over 25 years. Unlike other options that need to be replaced as often as every 5-10 years. This saves you more time and money in the long run.
Promote bone and oral tissue growth. This benefit is unique to implants and is the key reason that most people decide the procedure is well worth it. When you leave teeth unreplaced, it can cause your bone and oral tissues to deteriorate. This can affect your facial structure and make it appear saggy or droopy. Because implants are fused with the bone, they stimulate growth.
Not only are implants aesthetically pleasing and can boost your confidence, but they will improve your quality of life and allow you to take pleasure in the small things again. Eat all the foods you enjoy, keep the same oral hygiene routine, and most importantly, light up the room with your new smile by investing in dental implants!
About the Author
Dr. Nelson Howard is committed to providing his patients with healthy smiles that stand the test of time with dental implants. He has undergone specialized training in the art, science, and placement of implants and has even received special recognition for his work. His patients don't have to choose between expertise and experience, because they get both! Having placed hundreds of dental implants, you can have total peace of mind by knowing that your new smile will exceed all expectations. For any questions or to schedule a consultation, visit his website or contact  858-451-0550.