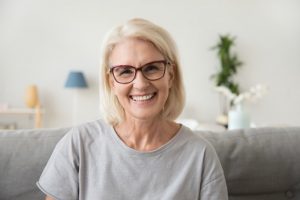 As you start to age, you notice your physical health beginning to change and become more mindful of your body. Even though you may not have stopped to pay attention, your oral health is changing too. After having your smile for so long, you are more likely to deal with issues such as tooth loss, gum disease, and discoloration. Knowing the effects that aging has on your teeth and gums is the first step to building a better and healthier you. Your dentist helps you address and prevent oral issues. Read on to discover 7 ways your age can affect your oral health.
Dry Mouth
Dry mouth can cause more problems than you may think. You need saliva to help wash away bacteria and food particles that collect in your mouth throughout the day in order to prevent decay and bad breath. It is a particularly common problem for people over the age of 65 and often results from infections, allergies, certain medications, and hormone changes. To help produce saliva, it's best to chew gum and drink plenty of water throughout the day.
Discoloration
After years of consuming stain-causing foods and drinks, it's no wonder that discoloration is a common oral effect of aging. This is mostly inevitable to avoid but staying away from tobacco products and drinks such as coffee and dark soda can help keep your smile brighter. Professional teeth whitening services from your dentist can be an easy and fast remedy for a stained grin.
Bad Breath
Not only can bad breathe create uncomfortable situations while talking to people, but it can also be a symptom of bigger oral health problems like dry mouth or gum disease. Another less serious cause can be poor oral hygiene. Seeing your dentist every 6 months can help combat this oral problem. Be sure to talk to them about your bad breath for additional tips advice on how to address it.
Gum Disease
Gum disease can develop over time, which is why it's more commonly spotted in older people than younger people. Practicing great oral hygiene and visiting your dentist for your routine checkups and cleanings can help prevent this disease from wreaking havoc on your smile.
Tooth Loss
Tooth loss is more common than you may think. Over 36 million Americans are missing all of their teeth, and about 120 million Americans are missing one or more teeth. Some common risk factors for tooth loss include tobacco use and poor oral hygiene. Regularly seeing your dentist can help preserve your natural teeth as well as help you explore restorative options like dental implants or dentures.
Poor Denture Care
Some people believe that because their dentures aren't natural, they don't need as much attention as natural teeth. Really, your dentures require just as much attention. It's important to brush and sanitize them often to help avoid discoloration and plaque buildup. Additionally, brush your gums with a soft-bristled toothbrush so you can keep them clean and bacteria-free.
Cavities
As you age, you're at a higher risk for developing cavities. You can help control your risk by consuming less sugary foods and drinks and brushing and flossing daily. Also, using antibacterial mouthwash is a great way to ward off any unwanted bacteria buildup caused by sugar intake.
As you begin to get older, knowing how your oral health will change can help you prevent these issues from surfacing in the first place. Understanding what can increase your risk factors will allow you to establish the proper preventive techniques. Your dentist will be able to answer any questions you have along with offering helpful advice that can keep your smile bright and functioning.
About the Author
Dr. Nelson Howard has been providing his patients with the highest quality of treatment for over three decades. He was the first dentist in North San Diego County and is only one of over 370 dentists in the entire world to become an Accredited Member of the American Academy of Cosmetic Dentistry. You're sure to feel in excellent care with his vast experience, extraordinary skill, and unmatchable passion for cosmetic dentistry. For any questions or to schedule an appointment, visit his website or contact 858-451-0550.