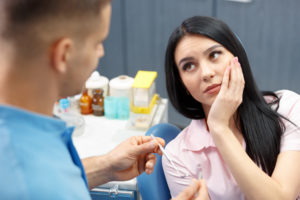 One of the more uncomfortable oral problems to have is a toothache. Considered a dental emergency, there are several factors that can contribute to you experiencing one. As you read on, your local dentist lists 10 possible causes of a toothache, so you can take the necessary steps to prevent one in the future.
Advanced Tooth Decay
The main contributor to poor oral health is the bacterium. Allowed to grow uncontrolled, the accumulation of thousands of them can lead to a toothache. This is the result of bacteria penetrating deep into the tooth's inner area where the nerves and canals are housed.
An Abscessed Tooth
An abscess, although painful, is a way of your body identifying an infection and attempting to encase it. That's because it can spread to other areas and lead to serious health problems.
Gum Disease
Failing to practice consistent and proper oral hygiene can lead to gum disease, which is the inflammation and irritation of your gums. The problem starts with minimal symptoms, but if not treated, can lead to an advanced infection that can eventually cause pain and even tooth loss.
Fractured Tooth
A fractured tooth can leave the more sensitive dentin and inner areas exposed. If not treated in time, the tooth may be susceptible to infection as foreign substances and bacteria are allowed to enter.
Temperature Sensitivity
Experiencing sharp pain after eating or drinking something can be a sign that your enamel is damaged. The latter serves as the primary source of protection for your teeth's more sensitive inner areas, and when it's compromised, there may be intense pain felt in response to extreme temperature changes.
Damaged Fillings
Fillings are used to restore teeth that have been damaged from cavities. If one fails or falls out your mouth, your tooth is left vulnerable to extreme temperatures, food particles, and bacteria, all of which may cause intense pain sensations.
Grinding Your Teeth (Bruxism)
Bruxism can be caused by anxiety or stress and is sometimes one of the symptoms of people who suffer from sleep apnea. The excessive pressure applied as the upper and lower arches converge can cause your teeth to crack and eventually expose their inner areas, which can again contribute to an infection and intense pain.
Improper Brushing
One of the dangers of attempting to brush your teeth in a hurry is that it can lead to poor execution. Thus, you can damage your sensitive enamel and cause pain sensations to be generated. The American Dental Association recommends that you brush carefully for at least two minutes each session, so that you can properly clean your teeth in a safe and controlled manner.
Misaligned Teeth
Having an improper bite can cause more than just aesthetic problems. Your teeth are made to fit together properly to ensure that they function as best they can. When one is out of alignment, it can then force the others to shift, which can lead to painful sensations.
Orthodontic Alignment
If you've been newly fitted with braces, retainers or some other type of orthodontic treatment, then you may experience pain from your teeth being forced to adjust. Usually the discomfort will subside within a few days, but if it doesn't, you should be sure to let your dentist know.
A toothache should never be taken lightly. To avoid guessing about what the cause is, if you're experiencing one, don't hesitate to contact your local dentist to get the answers and treatment needed.
About the Author
A life-long student, Dr. Nelson Y. Howard didn't stop learning when he graduated from the UCLA School of Dentistry. Thus, he's taken thousands of hours of postgraduate education, which enhances the care he provides for his patients. If you're experiencing a toothache, don't hesitate to contact Dr. Howard to get the relief you need. He can be reached for more information through his website.