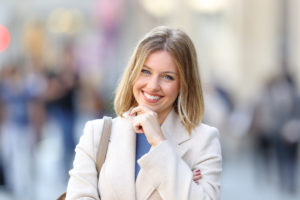 Confidence can accomplish amazing things. When you feel good about yourself, you're more likely to ask your crush out on a date, put on that daring new outfit, and share your wonderful personality with everyone you meet. But what if flaws in your teeth make you self-conscious instead of self-confident? A visit to your cosmetic dentist may be the key to turning those feelings around and achieving a smile that you can't wait to show off.
The Link Between Your Smile and Your Feelings
Everyone knows that smiling is a natural reaction when you're happy, but many people do not realize that the link between your smile and your feelings is a two-way street. When you activate your smile muscles, even if you aren't particularly happy, you stimulate your brain to release endorphins that make you feel good.
Another way that a smile can boost your confidence is through the effect that it has on other people. Smiling is contagious; when you share this gesture with other people, their social instincts kick in, and they smile too.
Help Your Smile Reach Its Potential
Any smile can warm the hearts of others and release feel-good endorphins in your brain, but a smile that is full of beautiful teeth can do even more for your confidence. White, straight teeth have the power to make you look younger and seem more successful and approachable. Teeth with noticeable discoloration or other flaws, however, can distract onlookers and detract from the good impression you want to make.
Taking care of your teeth via a good oral hygiene routine is vital for helping your smile look its best — but no amount of brushing and flossing can fix severe cosmetic issues. Fortunately, modern dentistry offers a number of ways to correct those flaws.
Cosmetic Services to Reinvent Your Smile
Here are a few cosmetic procedures that can drastically improve your smile's appearance:
Professional whitening has the power to remove even deep-set stains. With a user-friendly take-home kit from your dentist, your teeth can become several shades whiter in just a couple of weeks!
Cosmetic bonding is a fast and simple procedure that can cover cracks, chips, and discoloration. It is a fantastic choice if you have one or two teeth whose appearance bothers you.
Porcelain veneers are thin pieces of porcelain that your dentist attaches to the fronts of your teeth. They usually last longer than bonding and are ideal if you want a total smile transformation.
A beautiful, healthy smile can do wonders for your confidence! If you would like to see a change in the way your pearly whites look, your local cosmetic dentist would be happy to help you.
About the Dentist
Dr. Nelson Howard has been practicing dentistry for over three decades. Cosmetic dentistry is one of his specialties, and he truly enjoys helping his patients to discover the confidence that comes with a beautiful smile. If you would like to speak to him about accomplishing your smile goals, please contact one of our offices.