Teeth Whitening Services for
San Marcos and Rancho Bernardo
Your Cosmetic Dentist for a Brighter, Whiter Smile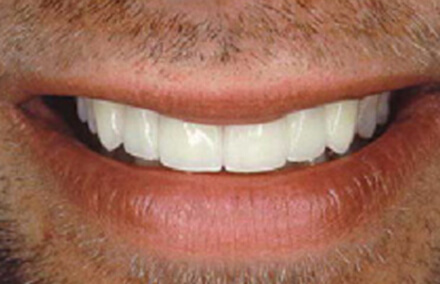 Stained enamel can make you self-conscious about your smile. Even if you have healthy teeth, and you brush and floss regularly, you may have not-so-pearly whites. For patients who live in and around Rancho Bernardo and San Marcos, Dr. Nelson Y. Howard and his cosmetic dentistry team can professionally brighten your smile with our teeth whitening services. Our cosmetic dental practice uses two types of take-home teeth whitening kits to brighten your smile: DayWhite and NiteWhite.
Why do teeth get stained?
Teeth get stained for a lot of different reasons. The enamel layer of your teeth is very porous and can absorb pigments from food, drink, and tobacco. As you age, your enamel starts to wear away, revealing the yellow-colored dentin layer beneath. Cavities, infections, and injuries can also discolor your teeth. Medications can also change the color of your teeth by affecting the internal color of your teeth by the many adverse effects medications have on your body's blood chemistry and ultimately these negative effects change the cells of your teeth to discolor from inside out. People who took the antibiotic tetracycline when they were children are a perfect example of how certain medications can change the color of your teeth. The good news is that teeth whitening kits, such as DayWhite and NiteWhite, can remove those stains and whiten your enamel up to ten shades!
Reasons that your teeth may be yellowed or darkened include:
Smoking or chewing tobacco
Drinking coffee, tea, cola, or wine
Eating pigmented foods like cherries, chocolate, and curry
Taking certain types of antibiotics, antihistamines, antipsychotics, and high blood pressure medications
Suffering from diseases that affect enamel and dentin
Having habits that cause enamel breakdown such as fingernail biting, chewing ice, chewing on pens
Enduring treatments such as chemotherapy
Getting older
Experiencing dental trauma
Receiving excessive fluoride
Ignoring daily oral hygiene
What can I do to improve the color of my teeth?
Basic techniques you can use to keep your teeth looking healthy are to brush and floss every day, get regular dental checkups, and use oral rinses with peroxide. Peroxide not only kills the bacteria that cause gum disease, it can also whiten your teeth. The best way to see improvement in the brightness of your smile is to come in to our Rancho Bernardo or San Marcos offices for your customized take-home teeth whitening kit. We offer both DayWhite and NiteWhite for your teeth whitening needs.
What are DayWhite and NiteWhite?
DayWhite and NiteWhite are teeth whitening kits that you can use in the convenience of your home. Both kits have optimal whitening advantages, and the type of kit you choose depends on when you want to whiten your teeth and how long you want to whiten them. If you want to whiten your smile during the day, then you can use DayWhite for about two hours a day. For those people who don't have time during their busy day, you may want to use NiteWhite, which will whiten your teeth while you sleep.
Is it easy to whiten my teeth at home?
Yes! At the Center for Advanced Cosmetic & Implant Dentistry, we give you customized trays, professional-grade whitening gel, and detailed instructions. And you can get your custom teeth-whitening kit, either Daywhite or NiteWhite, at either of our dental practices in San Marcos or Rancho Bernardo. A few things to remember about whitening your teeth at home:
Brush your teeth with desensitizing toothpaste to ensure less sensitivity during the whitening process.
Floss your teeth each time before you use the teeth whitening gels to eliminate the food debris in between your teeth for maximum results
Do not begin the whitening the process if you have cuts, scratches, or sores in your mouth. Let them heal first.
Maximum results are achieved within 14-21 days, so be consistent with your whitening until your treatment is completed.
Avoid drinking and eating foods that can re-stain your teeth, and stay away from acidic foods, too, which can cause damage to the tooth surface while you're in the whitening process.
Do not eat, smoke, or drink while the whitening trays are in your mouth, and wait about 30 minutes after your teeth whitening process before eating, drinking, or smoking.
Cosmetic Dental Care at San Marcos and Rancho Bernardo
Make your teeth whitening appointment at the Center for Advanced Cosmetic & Implant Dentistry. We have two convenient locations, one in Rancho Bernardo and another in San Marcos. Brighten your smile today!