Porcelain Veneers in
San Marcos and Rancho Bernardo
Your Cosmetic Dentist for Stunning Smile Transformations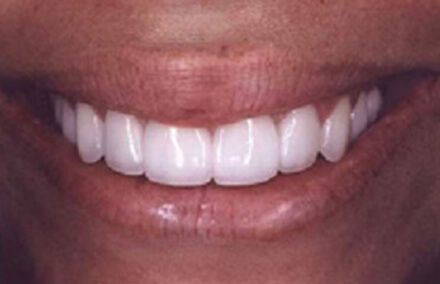 Dr. Nelson Y. Howard can transform your smile in as little as two treatment visits to either our San Marcos or Rancho Bernardo office. Porcelain veneers are marvels of cosmetic dentistry that address many kinds of dental flaws, including chips, gaps, stains, crooked, crowded, misshapen, and even broken teeth! The Center for Advanced Cosmetic & Implant Dentistry is your go-to place for porcelain veneers and other cosmetic procedures designed to enhance your smile.
Your smile is your greeting to family and friends, as well as a key element in social and work interactions. At the Center for Advanced Cosmetic & Implant Dentistry, we know that smiles are important! If you're worried about the way your smile looks, then consider the benefits of porcelain veneers! When you visit our San Marcos and Rancho Bernardo dental practices, we can use porcelain veneers to give you a brand new smile free of cracks, chips, gaps, misshapen or broken teeth, discolorations, and other dental flaws. Veneers can also help with bite-related problems, correcting tooth positions to give you better functionality in how you chew as well as talk.
So, what are porcelain veneers? They are ultra-thin, natural-looking laminates (layers of porcelain or glass) that are applied to the front of your teeth. Dr. Nelson Y. Howard meticulously plans out in advance and prepares your teeth for the treatment to ensure your porcelain veneers fit perfectly, look great, and exceed all your expectations! Impressions of your teeth are sent to Dr. Howard's personal lab technician with whom he has worked with for many years. His experienced technician individually crafts each veneer from a highly-detailed blueprint that Dr. Howard has designed specifically for each patient. Dr. Howard has very precise and exacting standards when it comes to cosmetic work, and his status as an Accredited Member of the American Academy of Cosmetic Dentistry ensures your results will be well worth your long-term investment in the appearance, health, and beauty of your teeth. Come to our Rancho Bernardo and San Marcos offices to create a smile you will be proud to show off to family, friends, co-workers, and anyone you meet!
Porcelain veneers not only give you a gorgeous smile that increases your confidence and improves your appearance, they offer other benefits, too! Veneers add strength to your teeth, giving you complete functionality. They're durable, too. With proper care, your veneers will last for years to come! Porcelain reflects light the same way as enamel, which gives your veneers a very nice, genuine, and natural look. Porcelain is also a biocompatible material—and that means your new veneers won't irritate your gums or appear unnatural. Porcelain is also stain-resistant, so your new smile will stay bright for a long time.
Dr. Nelson Y. Howard can correct your smile flaws with porcelain veneers – in as few as just two treatments! Porcelain veneers can change the shape, size, color, and appearance of your teeth, giving them a much more natural, beautiful, aligned look. Sometimes, porcelain veneers are called "instant orthodontics" because veneers can also correct your cosmetic misalignments. Porcelain veneers are often a great alternative for full crowns because it requires less removal of tooth structure. And if you have teeth that resist whitening, a veneer can be placed to ensure your smile looks evenly bright!
Get the smile of your dreams from the Center of Advanced Cosmetic & Implant Dentistry! We offer two convenient locations where you can get your porcelain veneers. Schedule your appointment!